Sticking towards the theory of 'Super Good quality, Satisfactory service', We are striving to become a superb business enterprise partner of you for IGET plus disposable electronic cigarette E Cig. We will expand the scale of the industry by establishing a sound corporate structure, improving scientific management, and making full use of market resources. We are willing to sincerely cooperate with customers with advanced and reliable technology, as much equipment as possible and good quality. We have fully realized informationization, standardization and humanization in management.
Specs
Size: 15.5*15.5*128mm
Liquid Capacity: 4.8ml
Battery capacity: 650mAh
Nicotine by volume: 6%
Filter*3
1 case/400pcs (18.5kg)
Case size: 40.5*38*31.5cm
13 Flavors
1.Blackberry raspberry ice
2.Strawberry watermelon
3.P.F.O ice
4. Lush ice
5.Blueberry ice
6.Peach Banana Ice
7.Asap grape
8.Mango Strawberry Juice
9.Lychee Lemon Ice
10.Red wine
11.Raspberry ice
12.Pineapple Coconut Ice
13.Sweet menthol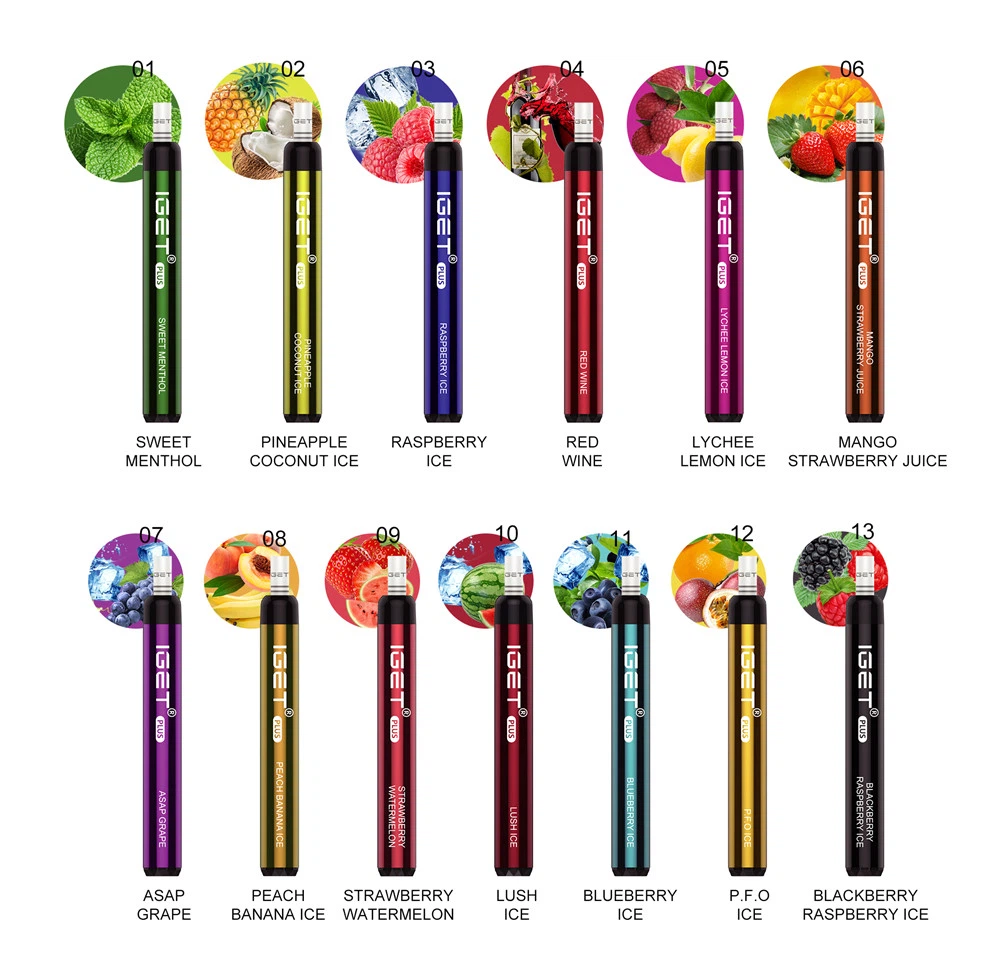 Companies use generous salaries to repay individuals to continuously enhance their core competitiveness and build the group into a "one of the best" IGET plus disposable electronic cigarette E Cig supply enterprises with flexible mechanisms, leading technology, abundant talents, and sufficient stamina. Our company adheres to the management concept of 'Science and Technology Innovation, Honest Service' and follows the advanced management mode of modern enterprises. We have established a scientific and complete management system to conduct comprehensive and strict management of production, sales and service. We regard quality as the life of our company, strive for excellence and meticulousness, and have established stable cooperative relationships with many customers at home and abroad.
Hot Tags: IGET plus disposable electronic cigarette e cig, China, suppliers, manufacturers, factory, for sale, made in China, Lightweight Disposable Vape Pod, pod kit, IGET DUAL 2100 puffs, Pod System Electronic Cigarette, Portable Disposable Ecigs Device, Beginner Friendly Disposable E Cigs

subscribe
Get the latest product launches, promotions, and contests delivered straight to your inbox for free!
CONTACT US
Tel: 0086-0755 21053937
Jason: +86 18998906271
Service Time: 8:30am-12:30am, 2:00pm-6:00pm, Monday-Friday GMT+8
Address: 401, building 6, No. 161, Xingye 1st Road, Fenghuang community, Fuyong street, Bao'an District, Shenzhen, China