We can ensure that the production scale, technical capabilities and quality level of our Ultra Thin Disposable Vape Pen meet industry standards. After years of development, we have established an excellent image and reputation in the industry with our excellent technology and quality. We serve both the company and the customers on the basis of the principle of respect for the market and the customers with honesty. We strive to reduce costs and enhance competitiveness for our customers under the premise of quality and quantity assurance.
Specs
Size: 15.5*15.5*128mm
Liquid Capacity: 4.8ml
Battery capacity: 650mAh
Nicotine by volume: 6%
Filter*3
1 case/400pcs (18.5kg)
Case size: 40.5*38*31.5cm
13 Flavors
1.Blackberry raspberry ice
2.Strawberry watermelon
3.P.F.O ice
4. Lush ice
5.Blueberry ice
6.Peach Banana Ice
7.Asap grape
8.Mango Strawberry Juice
9.Lychee Lemon Ice
10.Red wine
11.Raspberry ice
12.Pineapple Coconut Ice
13.Sweet menthol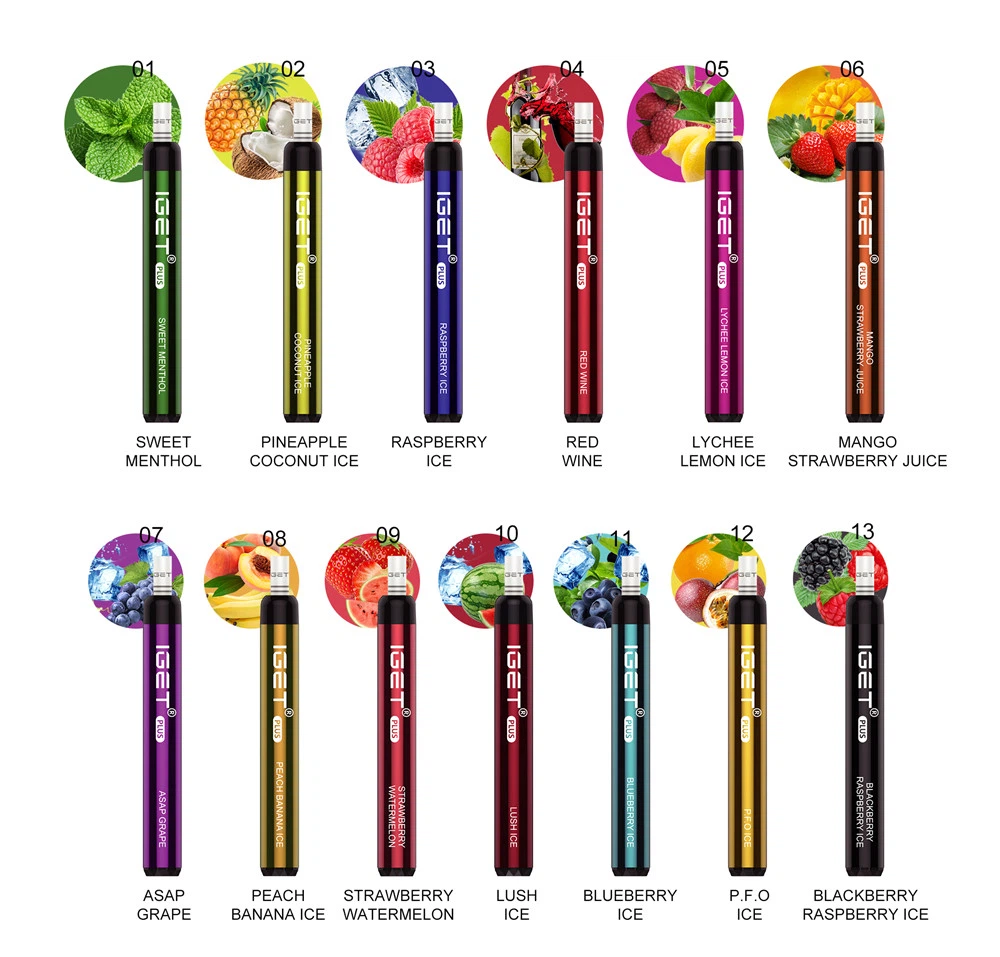 Our company takes the market as the guidance, our business is booming, our Ultra Thin Disposable Vape Pen regardless of variety or quality are worthy of the top of the industry. Adhering to the principles of professionalism and integrity, we are sure to continue to achieve changes and make our company a leader on the world stage! We adhere to the "customer-centric" service tenet, product optimization, and introduce new products.
Hot Tags: ultra thin disposable vape pen, China, suppliers, manufacturers, factory, for sale, made in China, IGET 350 PUFFS Disposable Electronic Cigarette, IGET NOVA POD, Disposable Vaporizer, IGET Nova Disposable Vape Best Selling Electronic Cigarette Portable E Cig, fruit vape device, Ultra Thin Disposable E cig

subscribe
Get the latest product launches, promotions, and contests delivered straight to your inbox for free!
CONTACT US
Tel: 0086-0755 21053937
Jason: +86 18998906271
Service Time: 8:30am-12:30am, 2:00pm-6:00pm, Monday-Friday GMT+8
Address: 401, building 6, No. 161, Xingye 1st Road, Fenghuang community, Fuyong street, Bao'an District, Shenzhen, China