After unremitting efforts, we have been enjoying a high sense of identity in the industry and customers and hold a respectable reputation in the society with our excellent Non-rechargeable Single use E-cigarettes and sincere actions. The impact of the technological revolution far exceeds everyone's imagination and it is also the greatest change in the history of human society. We constantly improve the added value of technological innovation, marketing services, and corporate culture in our products. In the process of development, the company has been adhering to the principle of honesty and proactiveness, constantly improving and expanding itself.
Specs
Size: 15.5*15.5*128mm
Liquid Capacity: 4.8ml
Battery capacity: 650mAh
Nicotine by volume: 6%
Filter*3
1 case/400pcs (18.5kg)
Case size: 40.5*38*31.5cm
13 Flavors
1.Blackberry raspberry ice
2.Strawberry watermelon
3.P.F.O ice
4. Lush ice
5.Blueberry ice
6.Peach Banana Ice
7.Asap grape
8.Mango Strawberry Juice
9.Lychee Lemon Ice
10.Red wine
11.Raspberry ice
12.Pineapple Coconut Ice
13.Sweet menthol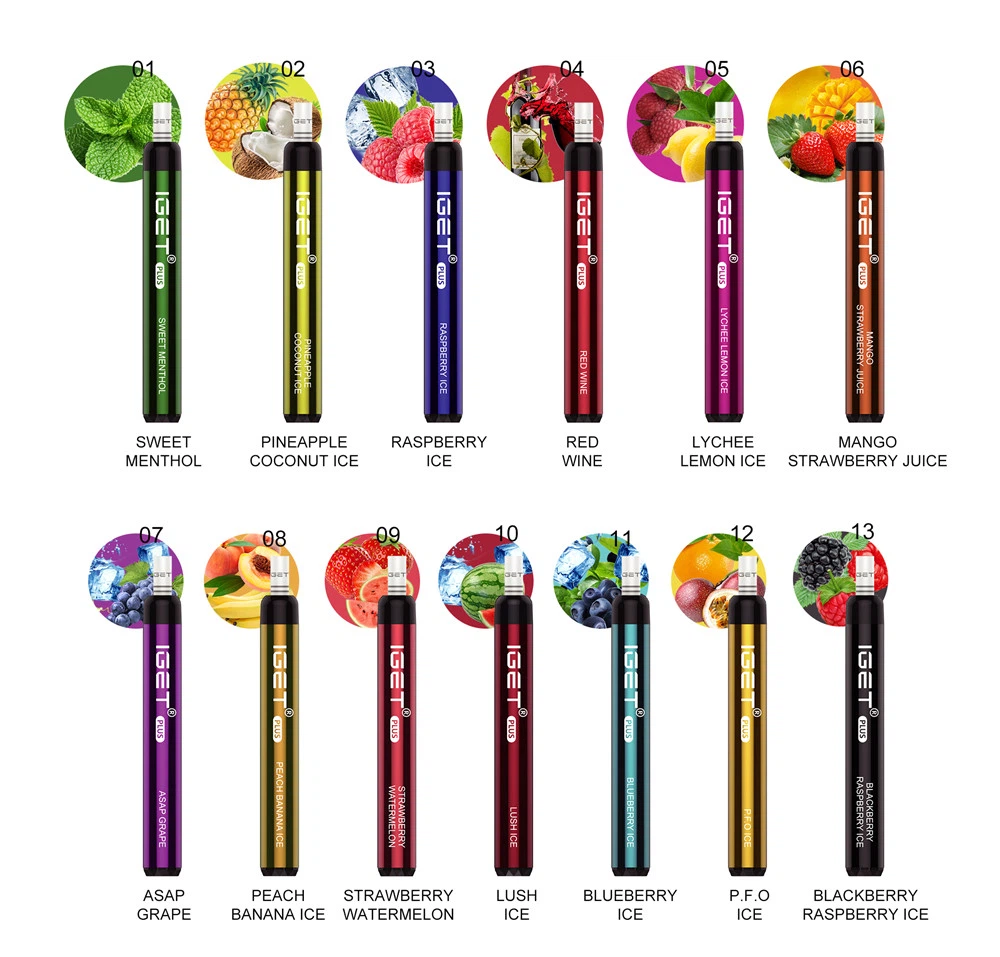 Therefore, the performance and effects of our Non-rechargeable Single use E-cigarettes is not inferior to imported product. Our corporate slogan: reputation comes from quality, our corporate philosophy: people-oriented, to achieve a win-win situation. Never satisfied with the status quo, customer requirements is the driving force of our design and manufacturing level and development.
Hot Tags: non-rechargeable single use e-cigarettes, China, suppliers, manufacturers, factory, for sale, made in China, IGET SHION, IGET Mega Disposable Electronic Cigarette E CIGS, Disposable E-cig, Non Refillable Electronic Cigarette Pen, Disposable Vape IGET Legend Disposable Vape Pen, Mini Disposable Vape

subscribe
Get the latest product launches, promotions, and contests delivered straight to your inbox for free!
CONTACT US
Tel: 0086-0755 21053937
Jason: +86 18998906271
Service Time: 8:30am-12:30am, 2:00pm-6:00pm, Monday-Friday GMT+8
Address: 401, building 6, No. 161, Xingye 1st Road, Fenghuang community, Fuyong street, Bao'an District, Shenzhen, China