Our availability to our customers' needs and precise after-sales service have made our Portable Disposable Vape Pen a worldwide reputation. We are actively enhancing our relationship with our customers, pursuing better products and creating new advantages in production costs. We make the enterprise develop continuously, rapidly and healthily, and strive for better economic, ecological and social benefits. Over the years, we have won the sincere love of our customers with the solid quality system as the guarantee and the high-quality products as the carrier.
Specs
Size: 20.5*20.5*114.5mm
Liquid Capacity: 8.5ml
Battery capacity: 1400mAh
Nicotine by volume: 6.0%
1 case/300pcs (22kg)
Case size:40.5*39.5*38.5 cm
25 Flavors
1.Cool Peach
2.Iced Grape
3.Lush Fruit
4.Pineapple Juice ice
5.Iced Blueberry
6.Mango Bomb
7.Mint Ice
8.Smooth tobacco
9.Blackberry ice
10.Very berry ice
11.Passion Fruit Pineapple Cranberry ice
12.Strawberry Watermelon
13.Blackberry Raspberry ice
14.Blueberry raspberry ice
15.Passion fruit mango ice
16.Passion fruit grape ice
17.Cola ice 18.double apple
19.Strawberry kiwi ice
20.lychee ice
21.Strawberry apple banana
22.Papaya banana
23.Energy drink
24.Strawberry cherry
25.Vanilla ice cream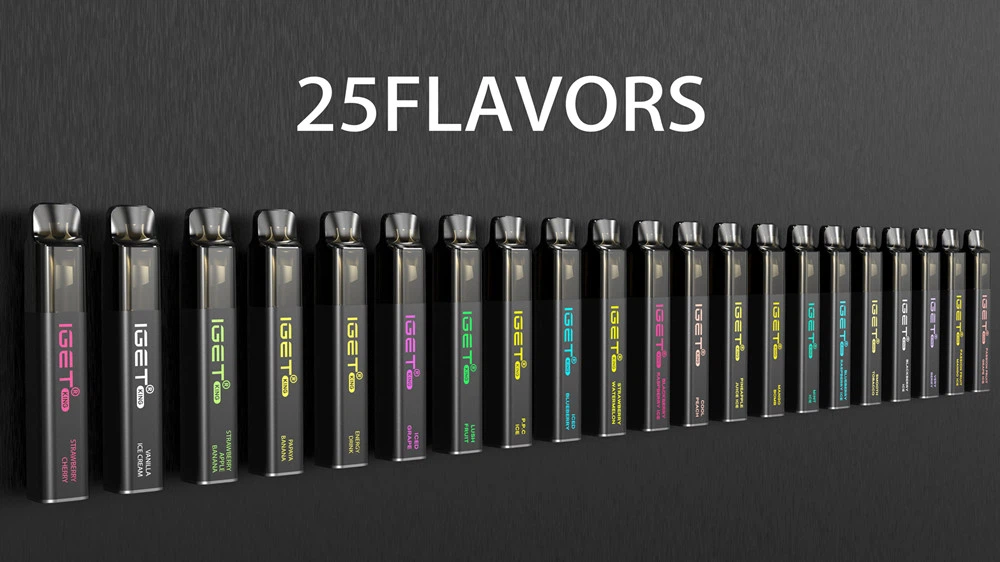 Our company sells the products of delicate and painstaking work, high quality and low price, we provide customers with a variety of rich and high-quality Portable Disposable Vape Pen. With advanced equipment and leading technology, our company produces high-quality products and considerate services to return customers. We have unified and standardized management within the company based on the principle of specialization and flattening.
Hot Tags: portable disposable vape pen, China, suppliers, manufacturers, factory, for sale, made in China, IGET 3500 PUFFS, IGET Electronic Cigarette Shion Disposable Vape, Popular Single Use Ecigs, IGET 350 PUFFS Disposable Electronic Cigarette, Non Refillable Electronic Cigarette Pen, Double flaovrs vape

subscribe
Get the latest product launches, promotions, and contests delivered straight to your inbox for free!
CONTACT US
Tel: 0086-0755 21053937
Jason: +86 18998906271
Service Time: 8:30am-12:30am, 2:00pm-6:00pm, Monday-Friday GMT+8
Address: 401, building 6, No. 161, Xingye 1st Road, Fenghuang community, Fuyong street, Bao'an District, Shenzhen, China