We have always paid attention to the quality of our Ultra Portable Disposable Vape and the construction of quality management system. We have always had strict requirements on the management of equipment production process and the control of equipment quality. According to the market changes, we produce marketable products, enhance the market competitiveness of products, and improve the economic benefits of enterprises. We pay great attention to the quality, delivery, value and technology of products and services, and keep on doing it without slackening.
Specs
Size: 20.5*20.5*114.5mm
Liquid Capacity: 8.5ml
Battery capacity: 1400mAh
Nicotine by volume: 6.0%
1 case/300pcs (22kg)
Case size:40.5*39.5*38.5 cm
25 Flavors
1.Cool Peach
2.Iced Grape
3.Lush Fruit
4.Pineapple Juice ice
5.Iced Blueberry
6.Mango Bomb
7.Mint Ice
8.Smooth tobacco
9.Blackberry ice
10.Very berry ice
11.Passion Fruit Pineapple Cranberry ice
12.Strawberry Watermelon
13.Blackberry Raspberry ice
14.Blueberry raspberry ice
15.Passion fruit mango ice
16.Passion fruit grape ice
17.Cola ice 18.double apple
19.Strawberry kiwi ice
20.lychee ice
21.Strawberry apple banana
22.Papaya banana
23.Energy drink
24.Strawberry cherry
25.Vanilla ice cream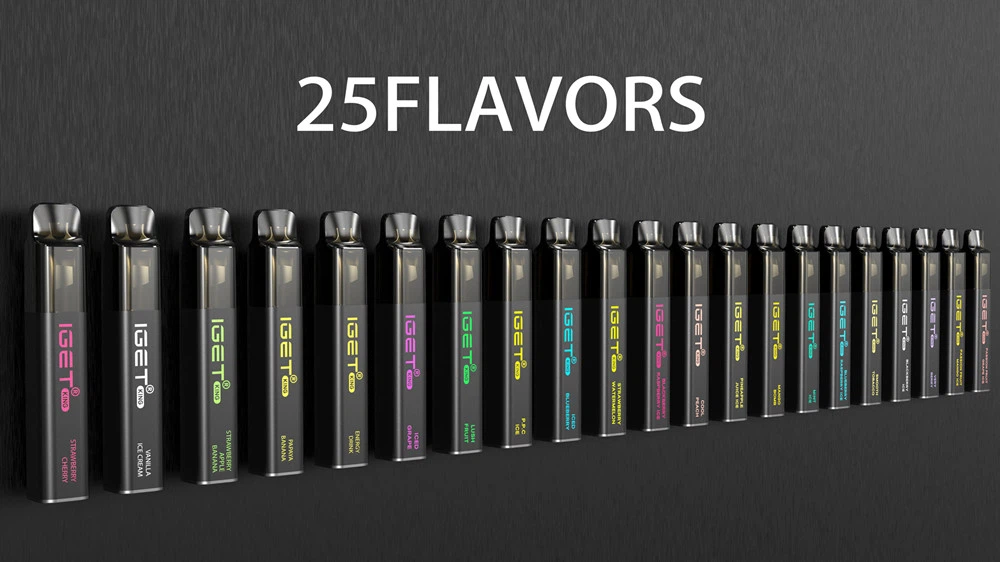 Our corporate vision is to adhere to the development concept of "innovation, green, sharing, and growth", provide innovative, high-quality, green products, services and comprehensive solutions, and strive to become a leading innovative Ultra Portable Disposable Vape company. We adapt to the modern management innovation of enterprises by strengthening system innovation and management and control innovation. Elements of our culture include, transparency and openness, frank communication, teamwork, and efficient innovation.
Hot Tags: ultra portable disposable vape, China, suppliers, manufacturers, factory, for sale, made in China, IGET MEGA 3000, Vape Pen Cartridge Vape Kit, Rechargeable Single Use Vape, IGET Best Product IGET Bar Disposable Vape Kit IGET 3500, IGET 350 PUFFS Disposable Electronic Cigarette, IGET KING

subscribe
Get the latest product launches, promotions, and contests delivered straight to your inbox for free!
CONTACT US
Tel: 0086-0755 21053937
Jason: +86 18998906271
Service Time: 8:30am-12:30am, 2:00pm-6:00pm, Monday-Friday GMT+8
Address: 401, building 6, No. 161, Xingye 1st Road, Fenghuang community, Fuyong street, Bao'an District, Shenzhen, China