We have always been exploring, trying and developing in the industry, and have always been committed to providing customers with excellent Classic Disposable E-Cigarette. Our company has established a set of standard process of quality management system so that each process of quality problems can be effectively corrected and prevented. Our company shows its best side to the customers through behavior. Similarly, we get the biggest return from the customers and come again. In the face of the current competitive situation, we need to establish a strategic talent resource planning.
Specs
Size: 20.5*20.5*114.5mm
Liquid Capacity: 8.5ml
Battery capacity: 1400mAh
Nicotine by volume: 6.0%
1 case/300pcs (22kg)
Case size:40.5*39.5*38.5 cm
25 Flavors
1.Cool Peach
2.Iced Grape
3.Lush Fruit
4.Pineapple Juice ice
5.Iced Blueberry
6.Mango Bomb
7.Mint Ice
8.Smooth tobacco
9.Blackberry ice
10.Very berry ice
11.Passion Fruit Pineapple Cranberry ice
12.Strawberry Watermelon
13.Blackberry Raspberry ice
14.Blueberry raspberry ice
15.Passion fruit mango ice
16.Passion fruit grape ice
17.Cola ice 18.double apple
19.Strawberry kiwi ice
20.lychee ice
21.Strawberry apple banana
22.Papaya banana
23.Energy drink
24.Strawberry cherry
25.Vanilla ice cream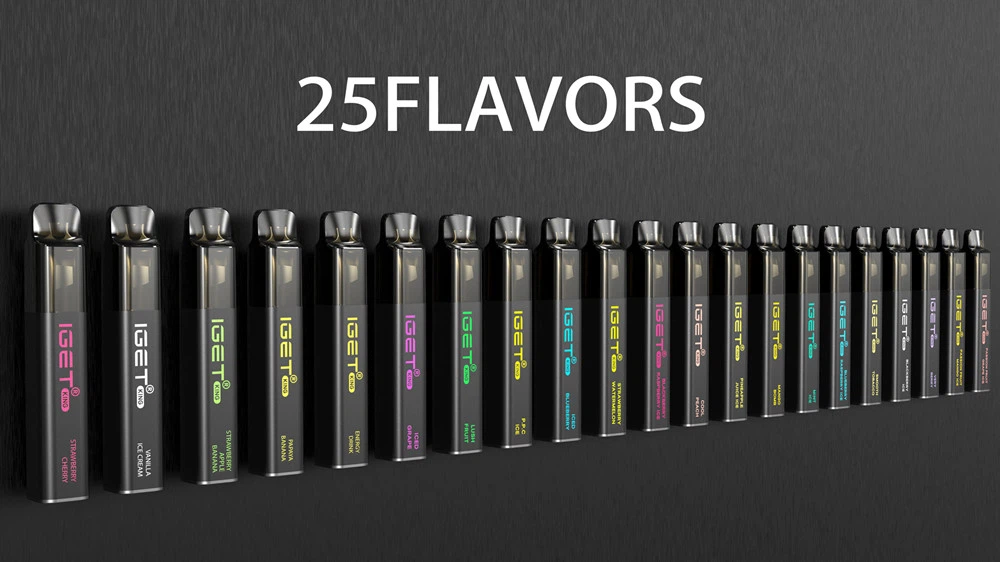 We used our strength and integrity to create a series of impressive performance and quickly became one of the leading companies in the industry of Classic Disposable E-Cigarette. Our company pays more and more attention to the introduction and training of talents, and the structure of talents is becoming more and more reasonable. Our company has won wide praise in the industry while constantly exploring the market, winning quality and expanding itself.
Hot Tags: classic disposable e-cigarette, China, suppliers, manufacturers, factory, for sale, made in China, Ultra Thin Disposable E cig, e-cig, IGET BAR 3500 puffs, Pod System Electronic Cigarette, Disposable Vape Kit IGET Dual with 2 Flavors, Flavored Disposable

subscribe
Get the latest product launches, promotions, and contests delivered straight to your inbox for free!
CONTACT US
Tel: 0086-0755 21053937
Jason: +86 18998906271
Service Time: 8:30am-12:30am, 2:00pm-6:00pm, Monday-Friday GMT+8
Address: 401, building 6, No. 161, Xingye 1st Road, Fenghuang community, Fuyong street, Bao'an District, Shenzhen, China