We uphold the core values of 'creating value for customers, sharing value with employees, and dedicating value to society', and continue to devote ourselves to creating better Portable Refillable Vape solutions. Our company is constantly introducing advanced production equipment and manufacturing technology, developing new technologies, strengthening technological innovation and improving product design. Our company adheres to the corporate tenet of 'integrity, service, reputation' and serves our customers wholeheartedly. We are willing to cooperate sincerely with colleagues from all walks of life, fight bravely in the wave of the new economy, and jointly seek a broader world of development, and achieve our win-win goal. We believe that honesty, pragmatism, diligence and broad-mindedness are the most important, and we firmly believe that performance is the only criterion for talent evaluation, and insist on appointing talents by the size of performance contribution.
Specs
Size: 20.5*20.5*114.5mm
Liquid Capacity: 8.5ml
Battery capacity: 1400mAh
Nicotine by volume: 6.0%
1 case/300pcs (22kg)
Case size:40.5*39.5*38.5 cm
25 Flavors
1.Cool Peach
2.Iced Grape
3.Lush Fruit
4.Pineapple Juice ice
5.Iced Blueberry
6.Mango Bomb
7.Mint Ice
8.Smooth tobacco
9.Blackberry ice
10.Very berry ice
11.Passion Fruit Pineapple Cranberry ice
12.Strawberry Watermelon
13.Blackberry Raspberry ice
14.Blueberry raspberry ice
15.Passion fruit mango ice
16.Passion fruit grape ice
17.Cola ice 18.double apple
19.Strawberry kiwi ice
20.lychee ice
21.Strawberry apple banana
22.Papaya banana
23.Energy drink
24.Strawberry cherry
25.Vanilla ice cream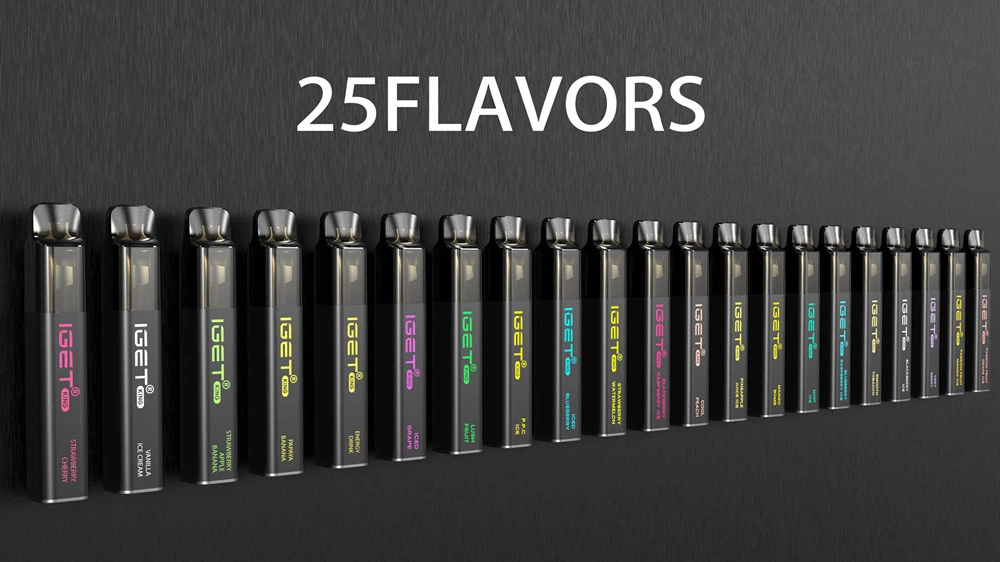 We regards two things as basic principles, which are human resource and technology-orientation. With more than a decade of experience in Portable Refillable Vape as well as communicating with customers, we are very confident to offer advanced and satisfactory products to customers! Our social mission is to develop enterprises through science and technology and serve the country diligently, Business intelligence and scientific management are the magic weapon to lead the enterprise reform and seize the market opportunity.
Hot Tags: portable refillable vape, China, suppliers, manufacturers, factory, for sale, made in China, IGET Legend IGET 4000 Puffs Electronic Cigarette, Portable Disposable Stick Pod, IGET DUAL 2100 puffs, IGET SHION, Disposable E-cig, Non refillable E cigs

subscribe
Get the latest product launches, promotions, and contests delivered straight to your inbox for free!
CONTACT US
Tel: 0086-0755 21053937
Jason: +86 18998906271
Service Time: 8:30am-12:30am, 2:00pm-6:00pm, Monday-Friday GMT+8
Address: 401, building 6, No. 161, Xingye 1st Road, Fenghuang community, Fuyong street, Bao'an District, Shenzhen, China