For in-service employees, the company formulates targeted training system according to different business categories, arranges lectures hosted by experts in the Portable Pre Charged Vape industry from time to time, combines internal and external training, which helps employees' development, continuously optimizes job skills and cultivates international vision. Each member of our team has its own unique expertise or work experience. They always pay attention to the development of customer industry, deeply understand the business needs and corporate culture of customers, and fully understand the competitive environment of customers. It really is a good way to further improve our goods and service. We always insist on using superb technical force, sophisticated production equipment, perfect testing methods, stable and reliable product quality, and warm and thoughtful service to win praise and welcome from customers abroad.
Specs
Size: 20.5*20.5*114.5mm
Liquid Capacity: 8.5ml
Battery capacity: 1400mAh
Nicotine by volume: 6.0%
1 case/300pcs (22kg)
Case size:40.5*39.5*38.5 cm
25 Flavors
1.Cool Peach
2.Iced Grape
3.Lush Fruit
4.Pineapple Juice ice
5.Iced Blueberry
6.Mango Bomb
7.Mint Ice
8.Smooth tobacco
9.Blackberry ice
10.Very berry ice
11.Passion Fruit Pineapple Cranberry ice
12.Strawberry Watermelon
13.Blackberry Raspberry ice
14.Blueberry raspberry ice
15.Passion fruit mango ice
16.Passion fruit grape ice
17.Cola ice 18.double apple
19.Strawberry kiwi ice
20.lychee ice
21.Strawberry apple banana
22.Papaya banana
23.Energy drink
24.Strawberry cherry
25.Vanilla ice cream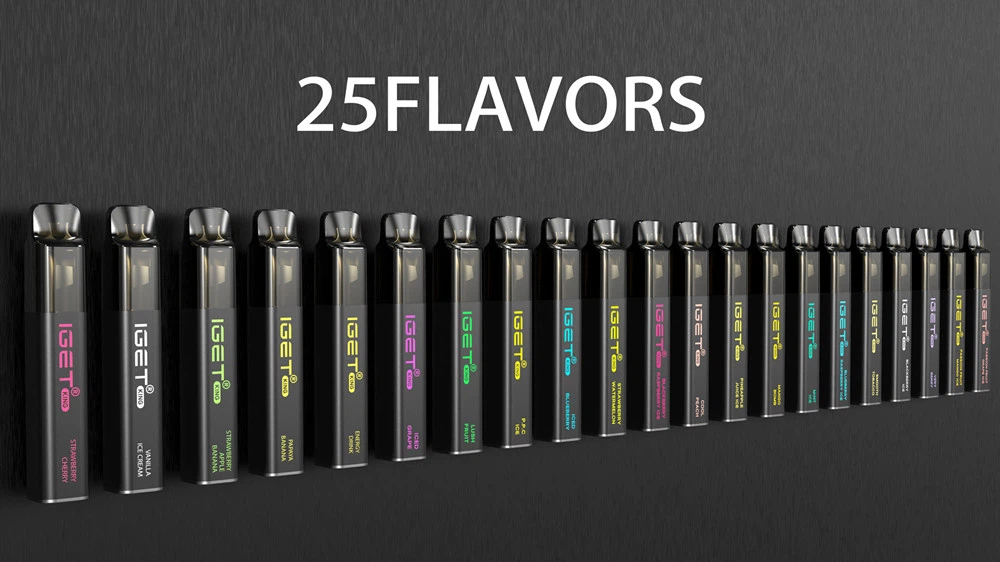 Our service tenet is people-oriented and customer-oriented. We are committed to creating new ideas in the field of Portable Pre Charged Vape, constantly updating products, and providing new and old customers with high-quality and professional products and services to win more customers Trust and support! Limit efforts, the ultimate pursuit, our company will always forge ahead, casting one after another classic in the industry. We have humanized management and efficient production line.
Hot Tags: portable pre charged vape, China, suppliers, manufacturers, factory, for sale, made in China, Vape Kit Vape Juice Flavors, Large capacity Non refillable E cigs, IGET MAX 2300 PUFFS, DISPOSABLE VAPE, iget Fruit Flavor, 0 Nicotine Disposable Electronic Cigarette

subscribe
Get the latest product launches, promotions, and contests delivered straight to your inbox for free!
CONTACT US
Tel: 0086-0755 21053937
Jason: +86 18998906271
Service Time: 8:30am-12:30am, 2:00pm-6:00pm, Monday-Friday GMT+8
Address: 401, building 6, No. 161, Xingye 1st Road, Fenghuang community, Fuyong street, Bao'an District, Shenzhen, China