High quality and high efficiency are the entry point of our Vape Flavors vape juice with nicotine salt nic vape juice products into the market. Your satisfaction is our high pursuit. We hope to be your good business partner. In short, we are: 'starting from customer requirements and end in customer satisfaction, everything for you'. With a clear direction of development, we focus on the construction of corporate culture and use culture to shape a unique corporate spirit, so our company keeps moving forward. Our company adheres to the brand core concept of 'win the good reputation with integrity and seek development by quality' and embodies the characteristics of international enterprises.
Specs
Size:25*25*113mm
Liquid Capacity: 10ml
Battery capacity: 1450 mAh
Nicotine by volume: 5%
1 case/200pcs (19kg)
Case size: 25x25x113mm
24 Flavors
1.Mint Ice
2.Strawberry Watermelon ice
3.Pineapple Juice ice
4.Blackberry Raspberry ice
5. Strawberry Kiwi ice
6. Strawberry Banana ice
7. Grape Ice
8. Lush Ice
9.Peach apple
10.Kiwi Pomegranate
11.Blueberry ice
12.Energy drink
13.Mixed fruits
14.Passion Fruit Mango
15.Cherry cola
16.Strawberry Mango
17.Blackberry ice
18.Strawberry ice
19.Very berry
20.Mango ice
21.Banana ice
22.Goleden tobacco
23.Passion fruit
24.Peach ice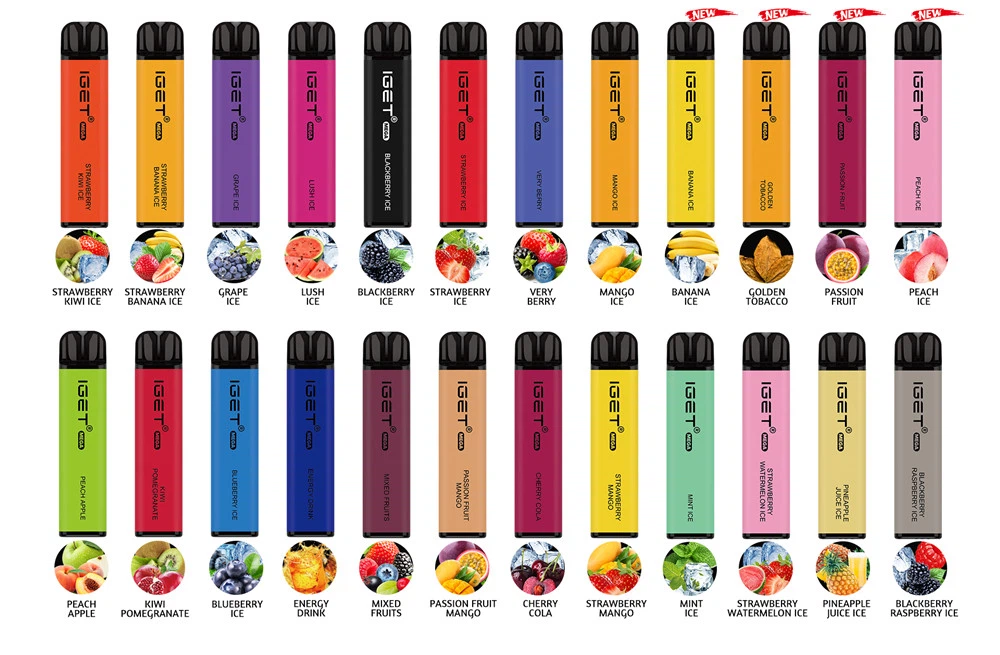 We have been committed to becoming an excellent Vape Flavors vape juice with nicotine salt nic vape juice supplier, providing customers with high-quality products, services and solutions. We actively participate in public welfare undertakings and fulfill the important social responsibilities of enterprises. We will start from a new historical starting point and seize and make good use of the important strategic opportunity period.
Hot Tags: vape flavors vape juice with nicotine salt nic vape juice, China, suppliers, manufacturers, factory, for sale, made in China, iget Refillable Vape, Beginner Single Cig, IGET XXL 1800 PUFFS, vaping, Starter Kit, Non rechargeable One Time Use E Cigs

subscribe
Get the latest product launches, promotions, and contests delivered straight to your inbox for free!
CONTACT US
Tel: 0086-0755 21053937
Jason: +86 18998906271
Service Time: 8:30am-12:30am, 2:00pm-6:00pm, Monday-Friday GMT+8
Address: 401, building 6, No. 161, Xingye 1st Road, Fenghuang community, Fuyong street, Bao'an District, Shenzhen, China