With the business philosophy of live on the product quality and develop on corporate credibility, we are quite willing to provide you with top quality Disposable Atomizer E-Cigarettes and fantastic service. We promote the overall coordination and progress of the company's development, benefit more customers, and strive to create a new space for harmonious development. We establish business code of conduct and internal control system, establish quality traceability system, and improve quality inspection and management system. We will continue to improve product quality and after-sales service, and sincerely cooperate with new and old customers for long-term development, welcome your visit and guidance.
Specs
Size:25*25*113mm
Liquid Capacity: 10ml
Battery capacity: 1450 mAh
Nicotine by volume: 5%
1 case/200pcs (19kg)
Case size: 25x25x113mm
24 Flavors
1.Mint Ice
2.Strawberry Watermelon ice
3.Pineapple Juice ice
4.Blackberry Raspberry ice
5. Strawberry Kiwi ice
6. Strawberry Banana ice
7. Grape Ice
8. Lush Ice
9.Peach apple
10.Kiwi Pomegranate
11.Blueberry ice
12.Energy drink
13.Mixed fruits
14.Passion Fruit Mango
15.Cherry cola
16.Strawberry Mango
17.Blackberry ice
18.Strawberry ice
19.Very berry
20.Mango ice
21.Banana ice
22.Goleden tobacco
23.Passion fruit
24.Peach ice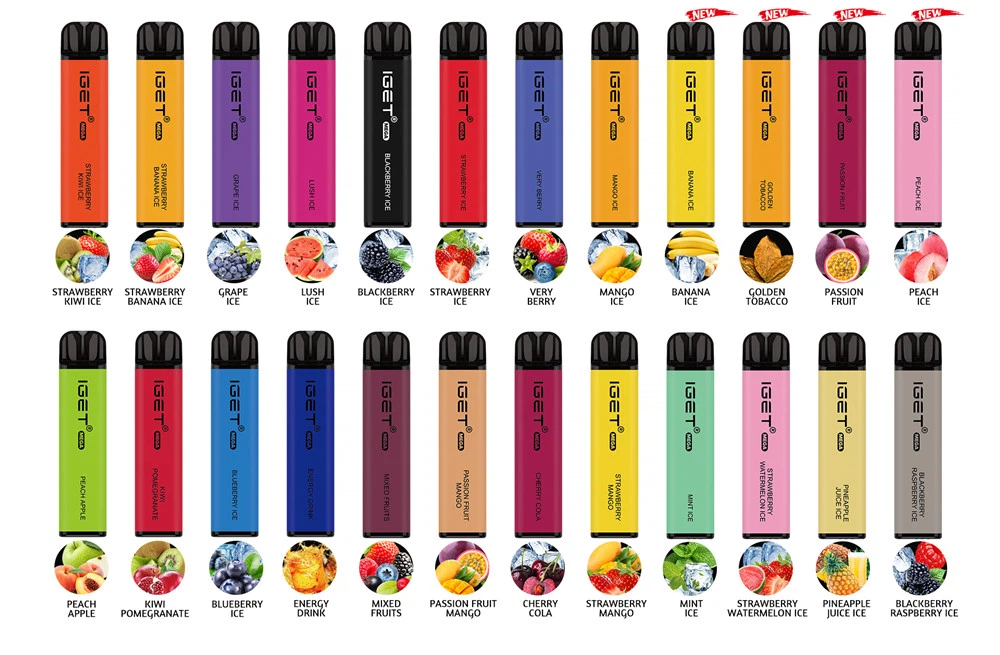 Our aim would be to fulfill our shoppers by offering golden company, very good value and good quality for Disposable Atomizer E-Cigarettes. With a fast development and our customers come from all over the world. We have a complete service system and a good reputation. Based on advanced management concepts and quality assurance systems, we actively promote continuous product improvement and technological innovation, and strive to build a well-known brand with international competitiveness.
Hot Tags: disposable atomizer e-cigarettes, China, suppliers, manufacturers, factory, for sale, made in China, Portable Disposable Vape, IGET Vape Disposable Vape Device 4000 Puffs, IGET BAR, Ultra Lightweight Disposable E Cig, Double Flaovrs Vape Kit, IGET Dual Disposable Electronic Cigarette Clearomizer

subscribe
Get the latest product launches, promotions, and contests delivered straight to your inbox for free!
CONTACT US
Tel: 0086-0755 21053937
Jason: +86 18998906271
Service Time: 8:30am-12:30am, 2:00pm-6:00pm, Monday-Friday GMT+8
Address: 401, building 6, No. 161, Xingye 1st Road, Fenghuang community, Fuyong street, Bao'an District, Shenzhen, China