We seek the common development of customers, enterprises, employees and society, and are committed to making our company competitive in the Flavored Disposable Vape Bomb industry. We strive to create a harmonious working and living atmosphere and strengthen communication with employees. We actively respond to the country's development strategy and actively expand overseas markets in the context of fierce domestic market competition. We insist on building the brand with quality and improving the brand with service.
Specs
Size:25*25*113mm
Liquid Capacity: 10ml
Battery capacity: 1450 mAh
Nicotine by volume: 5%
1 case/200pcs (19kg)
Case size: 25x25x113mm
24 Flavors
1.Mint Ice
2.Strawberry Watermelon ice
3.Pineapple Juice ice
4.Blackberry Raspberry ice
5. Strawberry Kiwi ice
6. Strawberry Banana ice
7. Grape Ice
8. Lush Ice
9.Peach apple
10.Kiwi Pomegranate
11.Blueberry ice
12.Energy drink
13.Mixed fruits
14.Passion Fruit Mango
15.Cherry cola
16.Strawberry Mango
17.Blackberry ice
18.Strawberry ice
19.Very berry
20.Mango ice
21.Banana ice
22.Goleden tobacco
23.Passion fruit
24.Peach ice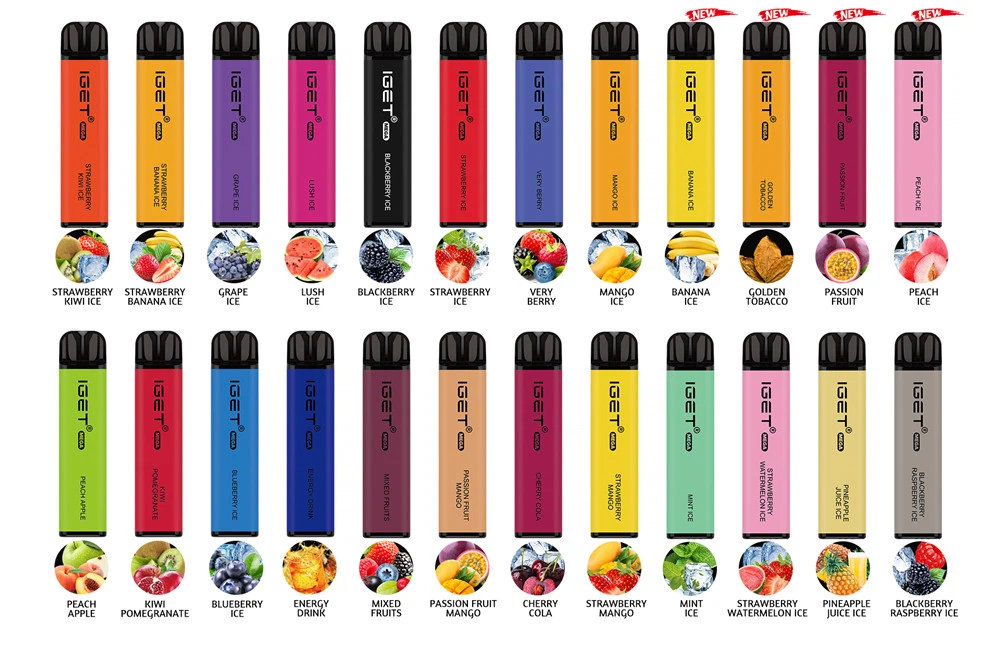 We deepen our innovative concepts, comprehensively use new technologies, and improve our manufacturing level so that we have achieved remarkable results in reducing costs and improving the quality of our Flavored Disposable Vape Bomb. We are inclusive, innovative and progressive in our outlook, establish open and trusting communication mechanisms and simple interpersonal relationships in our management, and strengthen win-win cooperation in our strategy. We have been focused and persistent, so that our products and services continue to improve.
Hot Tags: flavored disposable vape bomb, China, suppliers, manufacturers, factory, for sale, made in China, Non refillable E cigs, IGET Legend Disposable Electronic Cigarette IGET Vape Disposable Vape Device, Large capacity Non refillable E cigs, Electronic Cigarette Pen, IGET Electronic Cigarette Shion Disposable Vape, IGET Shion Disposable Electronic Cigarette E Cigarette

subscribe
Get the latest product launches, promotions, and contests delivered straight to your inbox for free!
CONTACT US
Tel: 0086-0755 21053937
Jason: +86 18998906271
Service Time: 8:30am-12:30am, 2:00pm-6:00pm, Monday-Friday GMT+8
Address: 401, building 6, No. 161, Xingye 1st Road, Fenghuang community, Fuyong street, Bao'an District, Shenzhen, China