We open up the market with the spirit of 'bright sword', constantly cooperate with the market development trend and the growing social demand and are determined to reform and innovate, so as to make the Colorful Disposable E Cigarette quality more perfect. We adopt the development concept of openness, tolerance, cooperation and win-win. We actively adapt to the new normal of economic development, transform the development mode and cultivate innovative dynamic energy. We always give back to consumers with advanced technology and excellent quality.
Specs
Size:25*25*113mm
Liquid Capacity: 10ml
Battery capacity: 1450 mAh
Nicotine by volume: 5%
1 case/200pcs (19kg)
Case size: 25x25x113mm
24 Flavors
1.Mint Ice
2.Strawberry Watermelon ice
3.Pineapple Juice ice
4.Blackberry Raspberry ice
5. Strawberry Kiwi ice
6. Strawberry Banana ice
7. Grape Ice
8. Lush Ice
9.Peach apple
10.Kiwi Pomegranate
11.Blueberry ice
12.Energy drink
13.Mixed fruits
14.Passion Fruit Mango
15.Cherry cola
16.Strawberry Mango
17.Blackberry ice
18.Strawberry ice
19.Very berry
20.Mango ice
21.Banana ice
22.Goleden tobacco
23.Passion fruit
24.Peach ice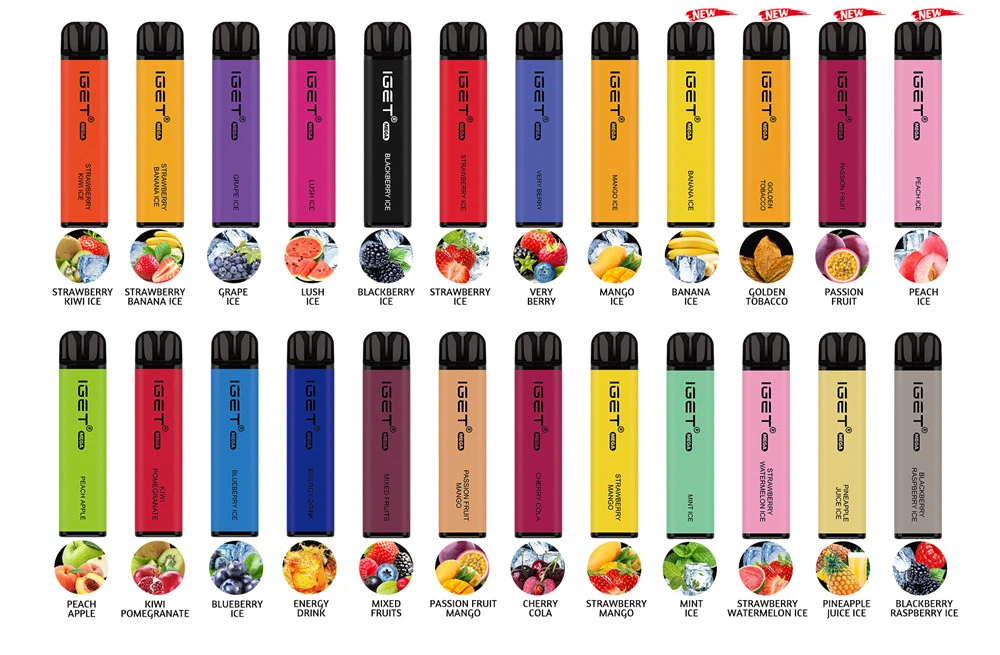 For a long time, we have insisted on winning customers and the market with quality and price to ensure the strong competitiveness of our Colorful Disposable E Cigarette. We have a complete and scientific management system, and our team spirit is based on unity and harmony. Our company has established a good and long-term cooperative partnership with many internationally renowned customers, laying a solid foundation for our company's rapid development.
Hot Tags: colorful disposable e cigarette, China, suppliers, manufacturers, factory, for sale, made in China, vape kit vape, Best Disposable Vape Pen, Disposable E Cigs, juice flavors, Paint Disposable Vape Pen, IGET 2300

subscribe
Get the latest product launches, promotions, and contests delivered straight to your inbox for free!
CONTACT US
Tel: 0086-0755 21053937
Jason: +86 18998906271
Service Time: 8:30am-12:30am, 2:00pm-6:00pm, Monday-Friday GMT+8
Address: 401, building 6, No. 161, Xingye 1st Road, Fenghuang community, Fuyong street, Bao'an District, Shenzhen, China