We demand more and more details until our Disposable Pre-Filled vape Device fully meet or even exceed the inspected standards. We will always adhere to open cooperation, play a leading role in the industry and promote the construction of the industrial system. In today's market-oriented economy, cost control and efficiency pursuit are the primary objectives of each company's management. In the new century, in the face of new opportunities, we hope you will join hands in creating a brilliant tomorrow!
Specs
Size: 22*22*122mm
Liquid Capacity: 12ml
Battery capacity: 1350mAh
Nicotine by volume:5%
1 case/300pcs (22kg)
Case size:40.5X39X33.8cm
13 Flavors
1.Grape ice
2.Lush ice
3.Passion fruit mango ice
4.Peach pineapple lime
5.Strawberry watermelon
6.Blueberry raspberry grape ice
7.Blackberry ice
8.Cola lemon soda
9. Strawberry kiwi ice
10.Mango banana ice
11.Passion fruit melon ice
12.Raspberry watermelon lemon
13.Pink lemon orange ice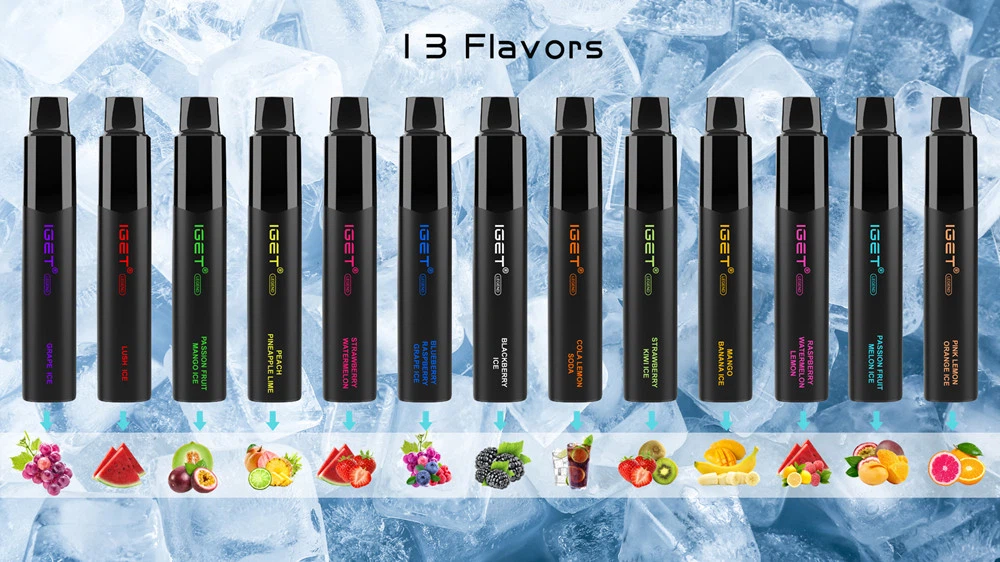 We also follow the principles of environmental protection when developing our Disposable Pre-Filled vape Device, including purchasing natural materials in accordance with ethical procurement standards, recycling consumer surplus materials and reducing the use of harmful chemicals. Through continuous innovation, we carry forward the fine tradition of unity and hard work, and the enterprise maintains the momentum of orderly and high-speed scientific development. We believe that the foundation of the company's growth comes from talents, and firmly believe that employees are the most valuable assets of the enterprise.
Hot Tags: disposable pre-filled vape device, China, suppliers, manufacturers, factory, for sale, made in China, Fruit Best Cartridge Vape Device, Vape Kit Vape Juice Flavors, Iget 4000 Puffs, juice flavors, Starter Kit, Auto draw Disposable E Cigarette

subscribe
Get the latest product launches, promotions, and contests delivered straight to your inbox for free!
CONTACT US
Tel: 0086-0755 21053937
Jason: +86 18998906271
Service Time: 8:30am-12:30am, 2:00pm-6:00pm, Monday-Friday GMT+8
Address: 401, building 6, No. 161, Xingye 1st Road, Fenghuang community, Fuyong street, Bao'an District, Shenzhen, China