We take full consideration of the actual needs of our customers, and make well-structured and high-quality Disposable Vape Iget Legend Disposable Vape Pen. Our corporate culture has been nurtured and continuously enriched in the development of our business along with the process of modernization. Our company business philosophy: customer-centric, integrity business, wealth and social responsibility. We comprehensively improve the economic efficiency of the company, strive to build an efficiency-oriented enterprise, promote the innovation of management mechanism, and promote the restructuring of the company's operation.
Specs
Size: 22*22*122mm
Liquid Capacity: 12ml
Battery capacity: 1350mAh
Nicotine by volume:5%
1 case/300pcs (22kg)
Case size:40.5X39X33.8cm
13 Flavors
1.Grape ice
2.Lush ice
3.Passion fruit mango ice
4.Peach pineapple lime
5.Strawberry watermelon
6.Blueberry raspberry grape ice
7.Blackberry ice
8.Cola lemon soda
9. Strawberry kiwi ice
10.Mango banana ice
11.Passion fruit melon ice
12.Raspberry watermelon lemon
13.Pink lemon orange ice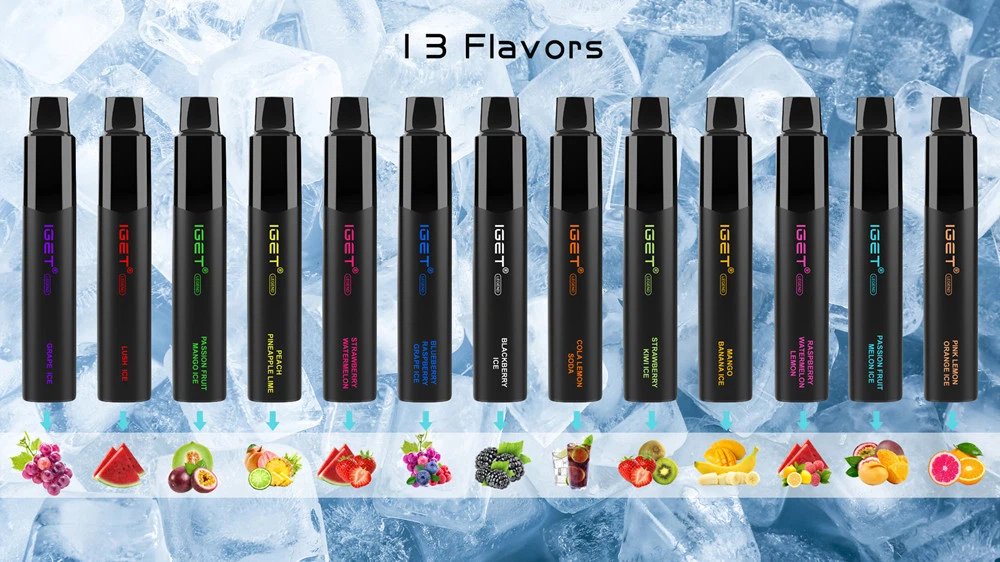 We can constantly satisfy our respected customers with our good high quality, good price tag and good support due to we have been additional specialist and extra hard-working and do it in cost-effective way for Disposable Vape Iget Legend Disposable Vape Pen. With the continuous development of the market, so far our company's products are more abundant. Our company has strict management and strict discipline. The company implements a scientific management structure and a post responsibility system at all levels, which not only ensures the smooth flow of government orders, but also helps to give full play to personal potential, mobilize employees' enthusiasm and creativity, and ensure the organic combination of enterprise rationality and passion.
Hot Tags: disposable vape IGET legend disposable vape pen, China, suppliers, manufacturers, factory, for sale, made in China, Colorful Disposable Vape Vape Juice Flavors, Portable Disposable Vape Pen, World Popular Vaping, Rechargeable Pod Electronic Cigarette, Ultra Thin Disposable Vape Pen, IGET LEGEND 4000

subscribe
Get the latest product launches, promotions, and contests delivered straight to your inbox for free!
CONTACT US
Tel: 0086-0755 21053937
Jason: +86 18998906271
Service Time: 8:30am-12:30am, 2:00pm-6:00pm, Monday-Friday GMT+8
Address: 401, building 6, No. 161, Xingye 1st Road, Fenghuang community, Fuyong street, Bao'an District, Shenzhen, China