By strictly implementing our production process, we will continue to improve the quality of our Iget Legend Iget 4000 Puffs Electronic Cigarette and meet the needs of our customers as always. We will vigorously carry forward the enterprise spirit of unity and realism, pioneering and innovation, and the pursuit of excellence to develop continuously. In the future, our company will continue to uphold the spirit of "inspiration, stability and innovation". We take customer satisfaction as the standard, and provide professional, sincere and caring services for our customers.
Specs
Size: 22*22*122mm
Liquid Capacity: 12ml
Battery capacity: 1350mAh
Nicotine by volume:5%
1 case/300pcs (22kg)
Case size:40.5X39X33.8cm
13 Flavors
1.Grape ice
2.Lush ice
3.Passion fruit mango ice
4.Peach pineapple lime
5.Strawberry watermelon
6.Blueberry raspberry grape ice
7.Blackberry ice
8.Cola lemon soda
9. Strawberry kiwi ice
10.Mango banana ice
11.Passion fruit melon ice
12.Raspberry watermelon lemon
13.Pink lemon orange ice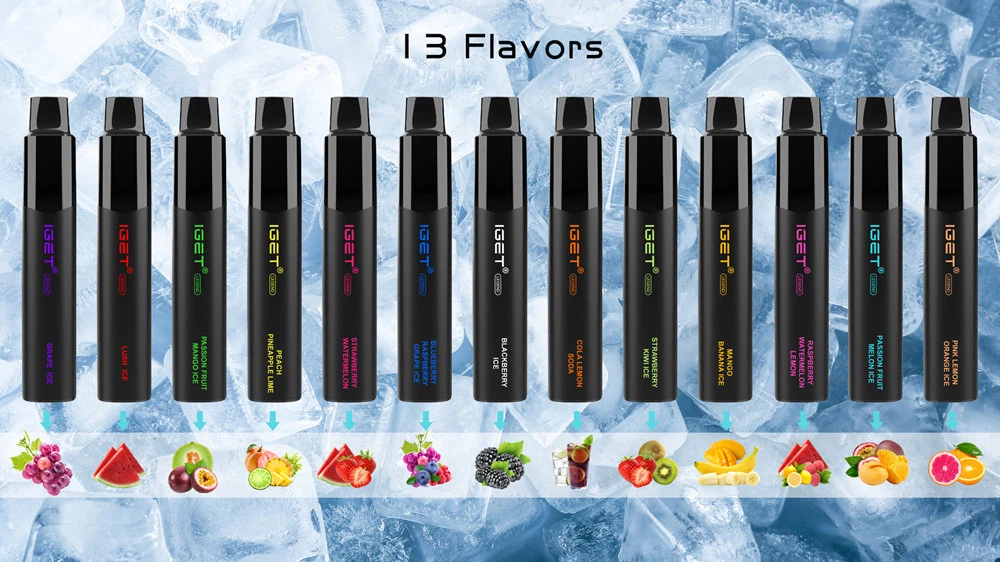 We believe that the market is competitive and quality, cost and service are the core of winning, so we strictly manage and carefully operate to produce quality Iget Legend Iget 4000 Puffs Electronic Cigarette. The company carries out team learning in an organized manner according to the development strategy. Under the background of economic globalization, we strive to become a large industrial group with diversified development, high social responsibility and sustainable development ability.
Hot Tags: IGET legend IGET 4000 puffs electronic cigarette, China, suppliers, manufacturers, factory, for sale, made in China, IGET NOVA, Rechargeable Pod Electronic Cigarette, Lightweight Disposable Disposable E cig, Ecigs, Ultra compact E cig, Pre charged Disposable E Cigarette

subscribe
Get the latest product launches, promotions, and contests delivered straight to your inbox for free!
CONTACT US
Tel: 0086-0755 21053937
Jason: +86 18998906271
Service Time: 8:30am-12:30am, 2:00pm-6:00pm, Monday-Friday GMT+8
Address: 401, building 6, No. 161, Xingye 1st Road, Fenghuang community, Fuyong street, Bao'an District, Shenzhen, China