We continue to use advanced technology and technology at home and abroad, so that our Iget Legend 4000 Puffs Disposable Iget Vape is constantly updated, scaled up in production, and high in quality. We continue to build an excellent corporate culture through teamwork, division of responsibilities, mutual trust, communication and honest management, and strive to become the best enterprise. We strive to create true and lasting value for customers and opportunities for continuous development for employees. 'Serve with integrity and make friends extensively' is our business philosophy. We will strictly and conscientiously implement contracts, honor our promises, strengthen after-sales service, and strive to satisfy customers.
Specs
Size: 22*22*122mm
Liquid Capacity: 12ml
Battery capacity: 1350mAh
Nicotine by volume:5%
1 case/300pcs (22kg)
Case size:40.5X39X33.8cm
13 Flavors
1.Grape ice
2.Lush ice
3.Passion fruit mango ice
4.Peach pineapple lime
5.Strawberry watermelon
6.Blueberry raspberry grape ice
7.Blackberry ice
8.Cola lemon soda
9. Strawberry kiwi ice
10.Mango banana ice
11.Passion fruit melon ice
12.Raspberry watermelon lemon
13.Pink lemon orange ice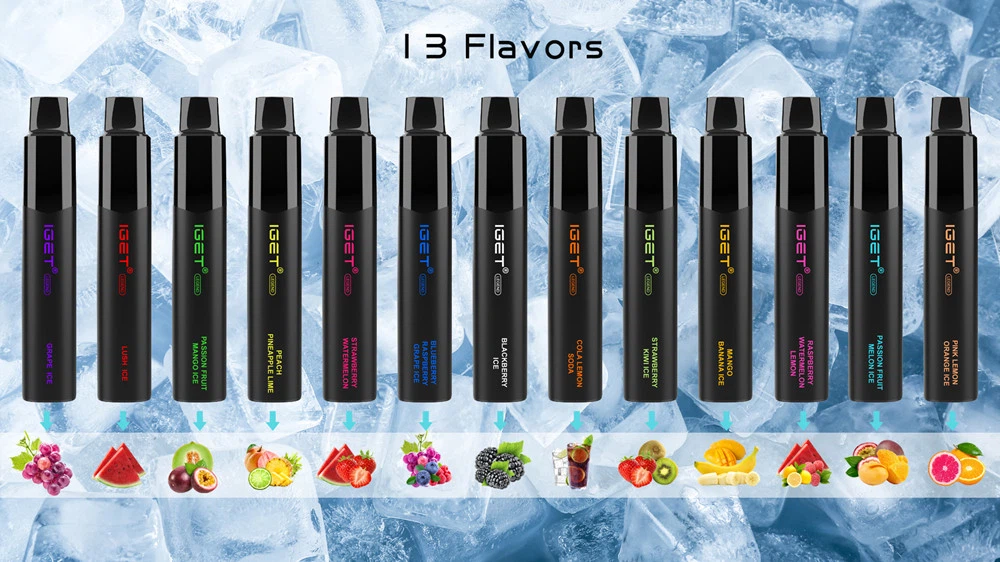 We have created a way to process orders quickly so that the Iget Legend 4000 Puffs Disposable Iget Vape can be delivered to customers quickly. We adhere to the general keynote of seeking progress in a stable manner, based on the new development stage, and implement the new development concept. In recent years, the company has been paying great attention to scientific management, and has set up a number of related functional departments, such as the sales department, the purchasing department, and the quality department.
Hot Tags: IGET legend 4000 puffs disposable IGET vape, China, suppliers, manufacturers, factory, for sale, made in China, Classic Disposable E Cigarette, Safe Portable Disposable Vape, Mini Disposable Vape, Refillable E Cigarette, juice flavors, Disposable Pod Vape Kits

subscribe
Get the latest product launches, promotions, and contests delivered straight to your inbox for free!
CONTACT US
Tel: 0086-0755 21053937
Jason: +86 18998906271
Service Time: 8:30am-12:30am, 2:00pm-6:00pm, Monday-Friday GMT+8
Address: 401, building 6, No. 161, Xingye 1st Road, Fenghuang community, Fuyong street, Bao'an District, Shenzhen, China