With the attitude of excellence, we develop new IGET legend disposable electronic cigarette Iget Vape dispo, explore and innovate, better meet the growing needs of consumers and realize a new leap in the development of the company. With advanced production technology, our company can occupy a competitive advantage. Our products not only enjoy a high reputation at home, but also very popular in the international markets. The company has also established an efficient, fast, and rigorous marketing network, and established an after-sales service system with integrity as its purpose, so that the company has more products, better quality, and higher technical content, and better meets the needs of domestic and foreign companies. Heat demand has won unanimous praise from customers.
Specs
Size: 22*22*122mm
Liquid Capacity: 12ml
Battery capacity: 1350mAh
Nicotine by volume:5%
1 case/300pcs (22kg)
Case size:40.5X39X33.8cm
13 Flavors
1.Grape ice
2.Lush ice
3.Passion fruit mango ice
4.Peach pineapple lime
5.Strawberry watermelon
6.Blueberry raspberry grape ice
7.Blackberry ice
8.Cola lemon soda
9. Strawberry kiwi ice
10.Mango banana ice
11.Passion fruit melon ice
12.Raspberry watermelon lemon
13.Pink lemon orange ice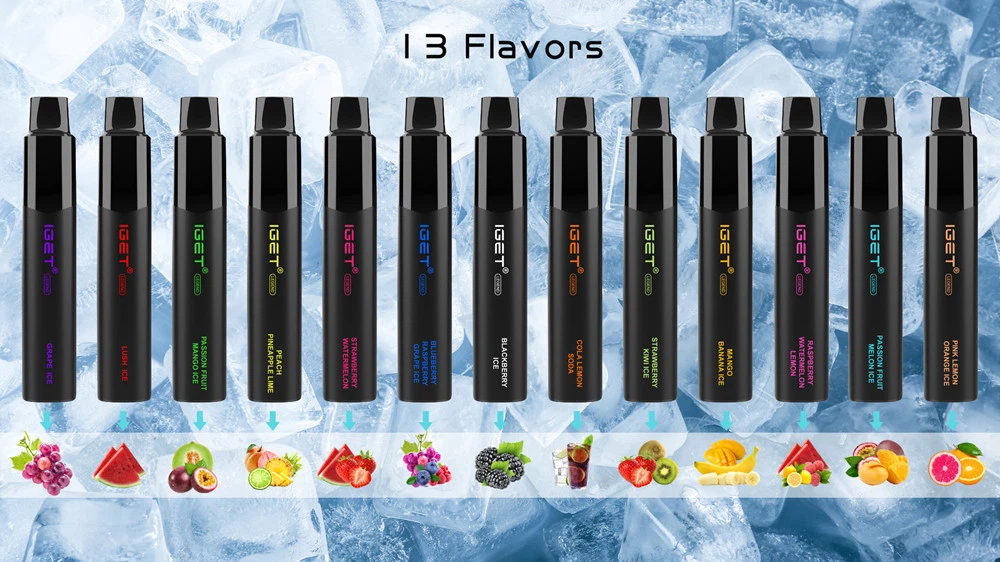 We actively promote the company's high-quality historic leapfrog development to build a world-class manufacturer of the IGET legend disposable electronic cigarette Iget Vape dispo. While meeting the needs of mass consumption, we further meet the requirements of diversified development trends. In fact, good business results of an enterprise are the external embodiment of entrepreneurs' grasping business opportunities and effectively controlling a package of production factors.
Hot Tags: IGET legend disposable electronic cigarette IGET vape disposable vape device, China, suppliers, manufacturers, factory, for sale, made in China, king 2600, Disposable Vape IGET Legend Disposable Vape Pen, Beginner Single Use E Cig, Non rechargeable Disposable E Cigarette, IGET 2600, Portable Disposable Vape Starter Kit

subscribe
Get the latest product launches, promotions, and contests delivered straight to your inbox for free!
CONTACT US
Tel: 0086-0755 21053937
Jason: +86 18998906271
Service Time: 8:30am-12:30am, 2:00pm-6:00pm, Monday-Friday GMT+8
Address: 401, building 6, No. 161, Xingye 1st Road, Fenghuang community, Fuyong street, Bao'an District, Shenzhen, China