We seek the common development of customers, enterprises, employees and society, and are committed to making our company competitive in the IGET Nova disposable vape best selling electronic cigarette industry. We keep improving the quality and efficiency of our enterprise development, and hope to make our due contribution to promote the sustainable and healthy development of the national economy and society! We are actively engaged in activities centered on the protection of the global environment and the harmonious coexistence of people and society, and we are striving to put into practice the concept of sustainability. Our company has a good reputation in the industry.
Specs
Size: 112*20*12mm
Liquid Capacity: 2ml
Battery capacity: 350mAh
Nicotine by volume: 6%
Device:1pcs
Remarks: recharge more than 300 times, the POD can be replaced
1 case/300pcs (18.5kg)
Case size: 48*39.5*30.5cm
3 Flavors+3 Colors
Grape Freeze+(Black)
Iced Blueberry+ (Blue)
Lush Fruit+ (Red)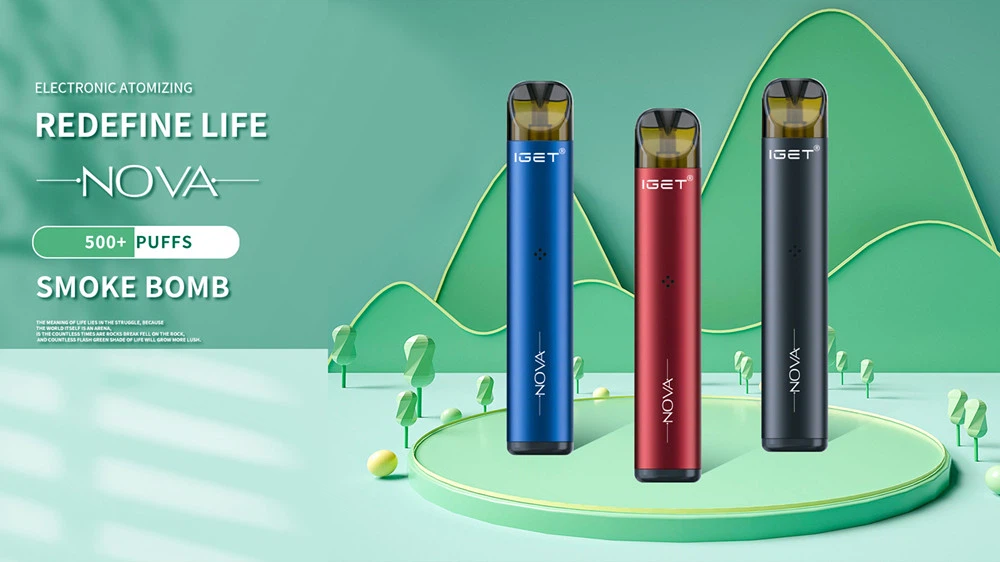 Adhering to the enterprise spirit of "learning to innovate and pursuing excellence", IGET Nova disposable vape best selling electronic cigarette puts forward a comprehensive implementation of branding, differentiation, scale and international development strategy, with scientific and modern corporate management, excellent product quality, and high-quality customer service to achieve a wide range of Market influence and sustainable development momentum. In order to promote our initiatives to strengthen the foundation of corporate social responsibility, we actively cooperate with outstanding companies around the world. We are familiar with consumer needs and market trends.
Hot Tags: IGET nova disposable vape best selling electronic cigarette portable e cig, China, suppliers, manufacturers, factory, for sale, made in China, Mini Disposable Vape Disposable Vape Stick, iget Fruit Flavor, Lightweight Disposable Vape Pod, Popular Single Use Ecigs, e-cig, IGET DUAL 2100

subscribe
Get the latest product launches, promotions, and contests delivered straight to your inbox for free!
CONTACT US
Tel: 0086-0755 21053937
Jason: +86 18998906271
Service Time: 8:30am-12:30am, 2:00pm-6:00pm, Monday-Friday GMT+8
Address: 401, building 6, No. 161, Xingye 1st Road, Fenghuang community, Fuyong street, Bao'an District, Shenzhen, China