Our company shoulders the goal and mission of the enterprise, the trust and growth of our customers, and the revitalization and development of the Iget Shion Iget 600 Disposable Vape Iget industry. Our company will uphold the 'integrity, quality first, the pursuit of excellence, steady line far' concept, to provide our customers with quality products and services. Rapid response and strict conduct are our work style, symbiosis and win-win, harmonious development are our eternal pursuit. We adhere to the development idea of "go to business, focus on service, strong management", based on the system enterprise, coordinate the resources of all parties to achieve the maximum benefit of the company as a whole.
Specs
Size: 92.4*14.5*14.5mm
Liquid Capacity: 2.4ml
Battery capacity: 400mAh
Nicotine by volume: 6%
1 case/600pcs (17.5kg)
Case size: 54.5*32.5*25cm
26 Flavors
1.Apple 2.Banana ice
3.Blue razz 4.Blueberry ice
5.Bubble gum 6. Blackberry ice
7.CantAloupe 8.Cool mint
9.Cola ice 10.Classic tobacco
11.Cinnamon 12.Cranberry ice
13.Flavor burst 14. Grape
15.Lush ice 16.Lychee Ice
17.Mystery fruit 18. Mango
19.Mixed fruit 20.Pink Lemonade
21.Pineapple ice 22.Peach Ice
23.Passion fruit 24. Strawberry
25.Starwberry watermelon 26.Very berry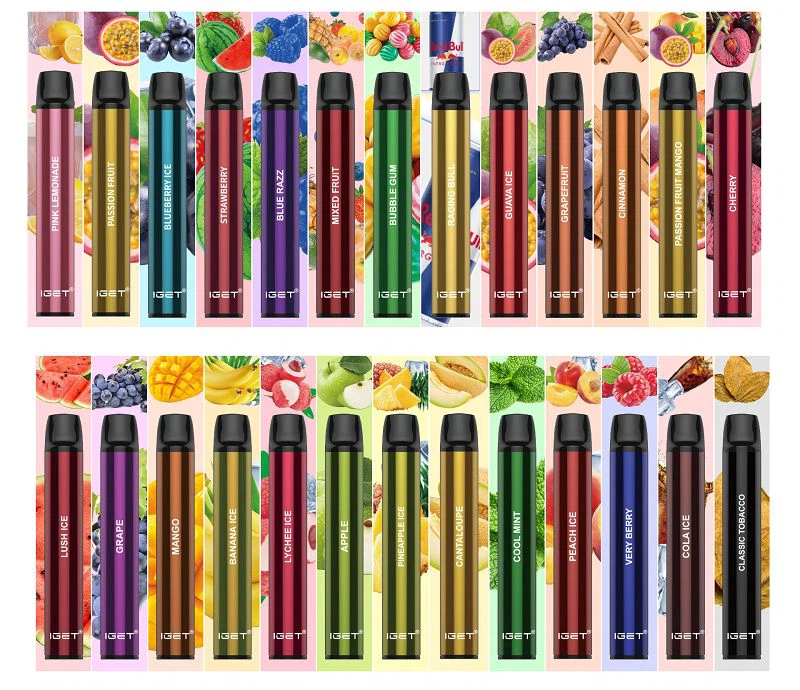 Our advantages are lessen charges, dynamic income team, specialized QC, sturdy factories, premium quality services for Iget Shion Iget 600 Disposable Vape Iget. We make employees feel the respect, help and care of the company through a complete care system, so that employees love the company, love their work, and love the company as at home. We actively promote energy conservation and emission reduction, protect the ecological environment, and show a responsible, green and harmonious corporate image.
Hot Tags: IGET shion IGET 600 disposable vape IGET, China, suppliers, manufacturers, factory, for sale, made in China, IGET 4000 Puffs IGET Legend 4000, IGET Electronic Cigarette Shion Disposable Vape, Ecigs, Auto draw Disposable E Cigarette, Ultra compact E cig, vape kit vape

subscribe
Get the latest product launches, promotions, and contests delivered straight to your inbox for free!
CONTACT US
Tel: 0086-0755 21053937
Jason: +86 18998906271
Service Time: 8:30am-12:30am, 2:00pm-6:00pm, Monday-Friday GMT+8
Address: 401, building 6, No. 161, Xingye 1st Road, Fenghuang community, Fuyong street, Bao'an District, Shenzhen, China