We always consider the needs of customers as our quest, and try our best to provide wholeheartedly high-quality E Cig Product Iget Bar with 12ml and first-rate services to customers at home and abroad to create a brighter future. We realize the requirements of promotion strategy, continuously enhance the ability of scientific and technological innovation, and solve the technical problems in production operation and operation development. Our company adheres to the 'customer-oriented' business philosophy, according to the 'customer needs is quality' quality policy, we continuously improve and constantly expand cooperation with more professional, larger scale manufacturers and enterprises. We can provide enterprises with fast and high-quality technical services and support.
Specs
Size:41.2*19.5*94.5mm
Liquid Capacity: 12ml
Battery capacity: 1500 mAh
Nicotine by volume: 5%
1 case/200pcs (19 kg)
case size: 50.5x27.5x33.5cm
25 Flavors
1.Mango ice
2.Blueberry ie
3.Double apple
4.Strawberry watermelon ice
5.Ice cream
6.Strawberry kiwi ice
7.Cola ice
8.Grape ice
9.Blueberry raspberry
10.Peach Ice
11.Cherry Pomecranate
12.Lush Ice
13.Blackberry Ice
14.Mixed berry
15.Strawberry raspberry
16.Banana ice
17.Cherry blueberry
18.Blackberry raspberry lemon
19.Melon ice
20.Passion fruit mango lime
21.Pineapple ice
22.Strawberry lemon ice
23.Orange mango pineapple ice
24.Banana pomegranate cherry ice
25.Passion fruit watermelon juice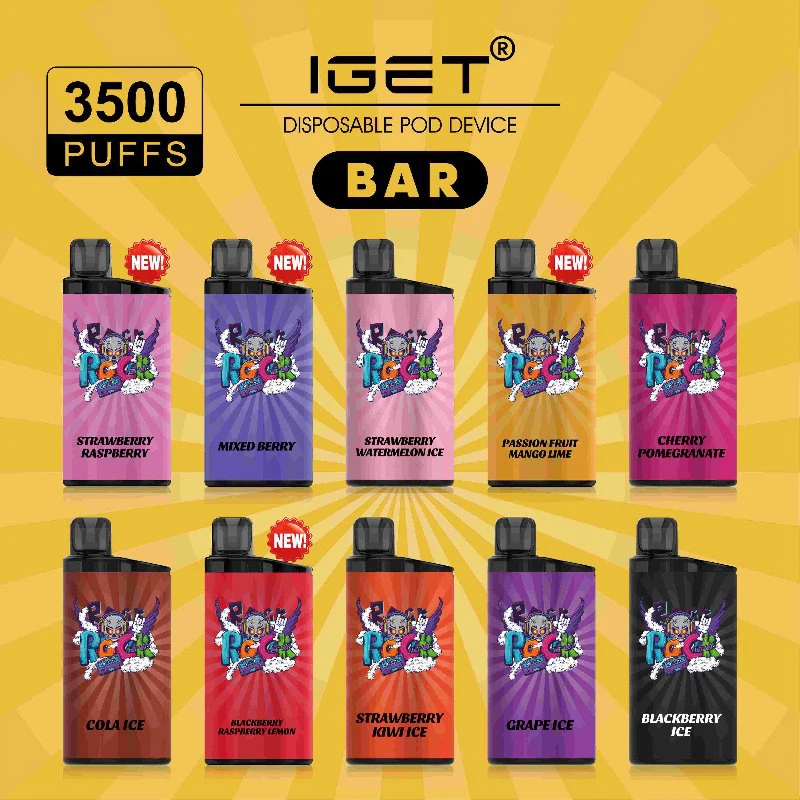 After unremitting efforts, we have been enjoying a high sense of identity in the industry and customers and hold a respectable reputation in the society with our excellent E Cig Product Iget Bar 12ml and sincere actions. Our aim is to provide customers with humanized and considerate service, exceeding their needs and expectations. We believe that it takes wisdom to discover the differences in resources that exist in domestic and foreign supply and demand markets.
Hot Tags: hot selling disposable vape iget bar 3500 puffs 25 flavors, China, suppliers, manufacturers, factory, for sale, made in China, World Popular Vaping Cigarette Electronic I Get E Cigarette IGET Dual, IGET MEGA 3000, IGET 3000, IGET MEGA, Prefill Oil Disposable Electronic Cigarette, IGET SHION

subscribe
Get the latest product launches, promotions, and contests delivered straight to your inbox for free!
CONTACT US
Tel: 0086-0755 21053937
Jason: +86 18998906271
Service Time: 8:30am-12:30am, 2:00pm-6:00pm, Monday-Friday GMT+8
Address: 401, building 6, No. 161, Xingye 1st Road, Fenghuang community, Fuyong street, Bao'an District, Shenzhen, China