Our Original Disposable Vape Pod Iget Vape Shion 600puffs are not only refined, but also diversified to meet the needs of different customers. We encourage extensive stakeholder participation to continuously improve the company's environmental management. In the fierce market competition, our company takes "integrity, pragmatism, refinement and innovation" as the purpose, and provides users with high-quality and reputable services with a high degree of professionalism. We really have to care about our employees and our customers and consider the interests of the larger community before we make any decisions.
Specs
Size: 92.4*14.5*14.5mm
Liquid Capacity: 2.4ml
Battery capacity: 400mAh
Nicotine by volume: 6%
1 case/600pcs (17.5kg)
Case size: 54.5*32.5*25cm
26 Flavors
1.Apple 2.Banana ice
3.Blue razz 4.Blueberry ice
5.Bubble gum 6. Blackberry ice
7.CantAloupe 8.Cool mint
9.Cola ice 10.Classic tobacco
11.Cinnamon 12.Cranberry ice
13.Flavor burst 14. Grape
15.Lush ice 16.Lychee Ice
17.Mystery fruit 18. Mango
19.Mixed fruit 20.Pink Lemonade
21.Pineapple ice 22.Peach Ice
23.Passion fruit 24. Strawberry
25.Starwberry watermelon 26.Very berry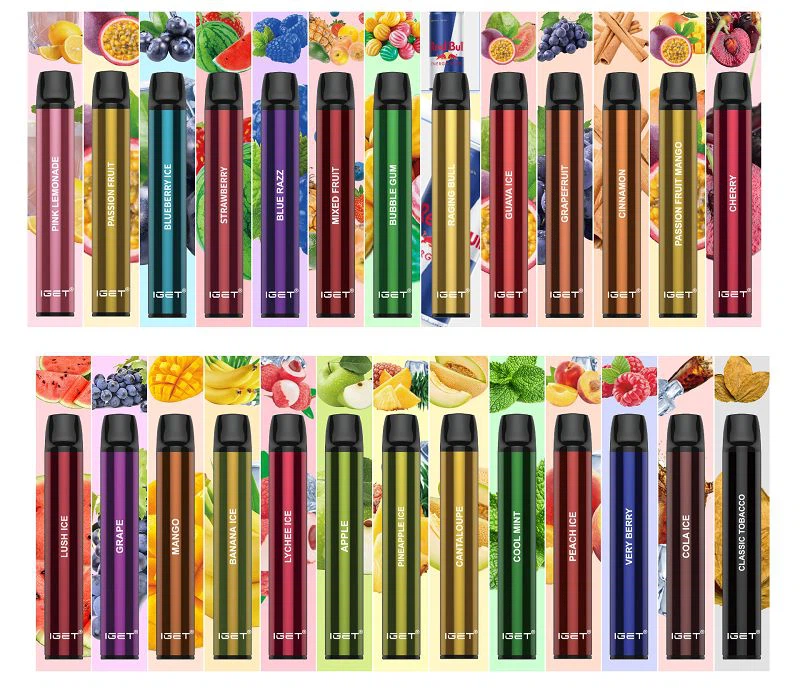 Customer needs are our continuous pursuit. We are guided by customer needs, insist on improving and innovating products, and constantly develop leading Original Disposable Vape Pod Iget Vape Shion 600puffs in the industry. The company always follows the business philosophy of "people-oriented, technology-based, honest and trustworthy, repaying the society", and faces the competition of domestic and foreign markets with ease. We believe that only by providing customers with the most effective services can we establish a lasting cooperative relationship.
Hot Tags: original disposable vape pod IGET vape shion 600puffs, China, suppliers, manufacturers, factory, for sale, made in China, IGET Legend Disposable Electronic Cigarette IGET Vape Disposable Vape Device, Popular Single Use Ecigs, Disposable Nicotine Vape Pens, Iget 4000 Puffs, Ecigs, Portable Disposable Vape Pen

subscribe
Get the latest product launches, promotions, and contests delivered straight to your inbox for free!
CONTACT US
Tel: 0086-0755 21053937
Jason: +86 18998906271
Service Time: 8:30am-12:30am, 2:00pm-6:00pm, Monday-Friday GMT+8
Address: 401, building 6, No. 161, Xingye 1st Road, Fenghuang community, Fuyong street, Bao'an District, Shenzhen, China