Based on mature and advanced technology and R&D capabilities, we inject widely recognized designs into our IGET Janna Disposable Electronic Cigarette Vape Shop Disposa to create mid-to-high-end products with more texture and style. At present, we have made great breakthroughs in many fields and continue to grow vigorously in our main business. The user services provided by our website not only include service hotline, call center, after-sales service, goods return and exchange, but also include timely information update, effective site navigation system and support for a wide range of users. By strengthening the pace of enterprise innovation and transformation, our company will be more brilliant tomorrow.
Specs
Size: 81*20*12mm
Liquid Capacity: 1.6ml
Battery capacity: 280mAh
Nicotine by volume: 5%
1 case/600pcs (14kg)
Case size: 45*39.5*29.5cm
16 Flavors
1.Watermelom 2.Grape
3.Mango 4.Apple
5.Lychee Ice 6.Banana ice
7.Pineapple ice 8.CantAloupe
9.Cool mint 10.Peach Ice
11.Cola ice 12.Classic tobacco
13.Strawberry 14.Blueberry ice
15.Orange ice 16.Passion fruit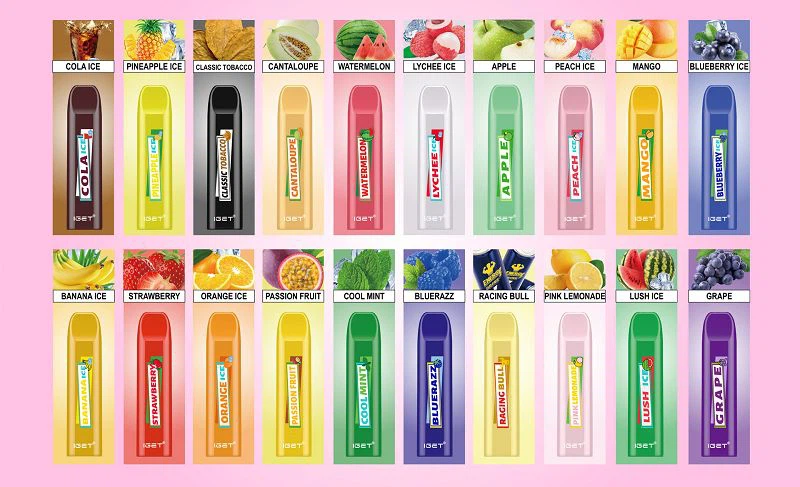 Our company is a IGET Janna Disposable Electronic Cigarette Vape Shop Disposa manufacturing enterprise integrating scientific research, design and production. With the rapid changes of the global economic situation and competition rules, enterprises are facing increasingly fierce competition pressure. Only by continuously improving the operation efficiency and economic benefits in the process of operation, can enterprises survive. The company continues to increase the research and development and innovation of technology, and formulates and implements strict quality control measures according to the characteristics of the industry.
Hot Tags: IGET janna disposable electronic cigarette vape shop disposable vape pens online, China, suppliers, manufacturers, factory, for sale, made in China, Portable Disposable Ecigs Device, IGET KING, pod system, Portable Disposable E cigarettes, Electronic Cigarette Pen, IGET 600

subscribe
Get the latest product launches, promotions, and contests delivered straight to your inbox for free!
CONTACT US
Tel: 0086-0755 21053937
Jason: +86 18998906271
Service Time: 8:30am-12:30am, 2:00pm-6:00pm, Monday-Friday GMT+8
Address: 401, building 6, No. 161, Xingye 1st Road, Fenghuang community, Fuyong street, Bao'an District, Shenzhen, China