We are insisting on using integrated industry chain optimization to enhance core competitiveness so that we can continuously improve the quality of Safe Portable Disposable Vape. We are committed to promoting the spirit of industry, mastering core technology, pursuing perfect quality, providing first-class services, and letting the world fall in love with made in China! The company adheres to the talent concept of "respecting talents, cultivating talents and making reasonable use of talents". We have strict requirements on product quality, providing customers with high-quality products and services is our tenet.
Specs
Size: 81*20*12mm
Liquid Capacity: 1.6ml
Battery capacity: 280mAh
Nicotine by volume: 5%
1 case/600pcs (14kg)
Case size: 45*39.5*29.5cm
16 Flavors
1.Watermelom 2.Grape
3.Mango 4.Apple
5.Lychee Ice 6.Banana ice
7.pineapple ice 8.CantAloupe
9.Cool mint 10.Peach Ice
11.Cola ice 12.Classic tobacco
13.Strawberry 14.Blueberry ice
15.Orange ice 16.Passion fruit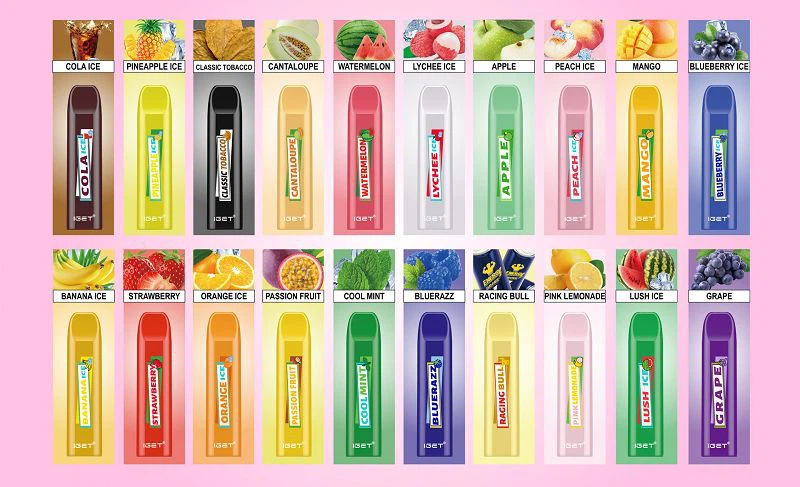 With excellent management and development advantages, advanced development concept, advanced development idea and successful operation mode, the products of Safe Portable Disposable Vape are welcomed all over the world. All the staffs of our company are convinced that "quality creates value and value sustains life", and we strictly control every link related to product quality. Our company has always taken science and technology as the guide, development as the fundamental, to meet the requirements of users as the central concept.
Hot Tags: safe portable disposable vape, China, suppliers, manufacturers, factory, for sale, made in China, Multi Flavor, Round Disposable Vape Pen, Disposable Atomizer, vaping, IGET Nova Disposable Vape Best Selling Electronic Cigarette Portable E Cig, Transparent Disposable Vape Atomizer

subscribe
Get the latest product launches, promotions, and contests delivered straight to your inbox for free!
CONTACT US
Tel: 0086-0755 21053937
Jason: +86 18998906271
Service Time: 8:30am-12:30am, 2:00pm-6:00pm, Monday-Friday GMT+8
Address: 401, building 6, No. 161, Xingye 1st Road, Fenghuang community, Fuyong street, Bao'an District, Shenzhen, China