Our high standards in production processes ensure that our IGET Janna 350puffs disposable vape meets the industry's high standards in terms of appearance and quality of component production. We constantly improve our R&D design capability and manufacturing capability to surpass ourselves. We strive for the goal of 'being an industry leader'! In the future, we will keep pace with the times, continue to introduce talents, improve the management mechanism, providing users with better products and better services! We hope to let dedicated, responsible and responsible employees share more fruits of corporate development, get more growth opportunities and benefits, and continuously improve the happiness of employees.
Specs
Size: 81*20*12mm
Liquid Capacity: 1.6ml
Battery capacity: 280mAh
Nicotine by volume: 5%
1 case/600pcs (14kg)
Case size: 45*39.5*29.5cm
16 Flavors
1.Watermelom 2.Grape
3.Mango 4.Apple
5.Lychee Ice 6.Banana ice
7.Pineapple ice 8.CantAloupe
9.Cool mint 10.Peach Ice
11.Cola ice 12.Classic tobacco
13.Strawberry 14.Blueberry ice
15.Orange ice 16.Passion fruit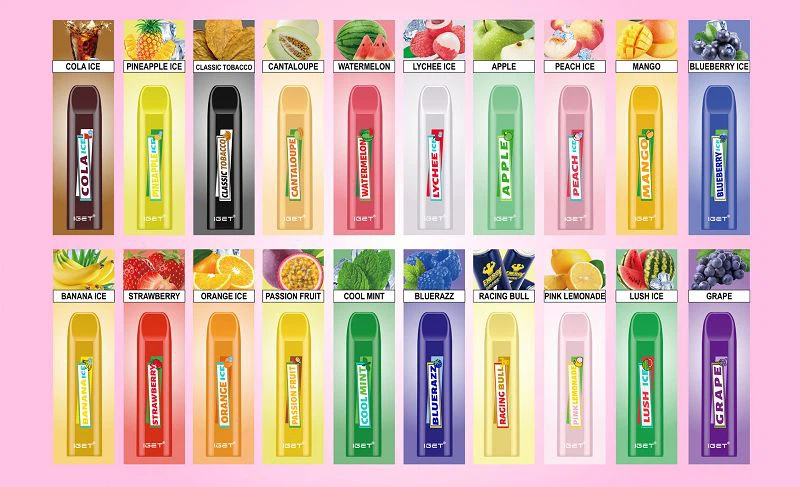 We continue to develop new IGET Janna 350puffs disposable vape, constantly improve quality, enhance the durability of products, and offer high quality and low price products to customers. We will continue to work hard, go hand in hand with our peers, and be a voice in the market. Our company cultivates our own market system through innovation and change, forms corresponding industry standards, raises corresponding industry thresholds, and establishes a firm position in the industry under the leadership of technological innovation.
Hot Tags: IGET janna 350puffs disposable vape, China, suppliers, manufacturers, factory, for sale, made in China, Refillable Vape, Lightweight Disposable Vape Pod, IGET NOVA, king 2600, Lightweight Disposable Disposable E cig, juice flavors

subscribe
Get the latest product launches, promotions, and contests delivered straight to your inbox for free!
CONTACT US
Tel: 0086-0755 21053937
Jason: +86 18998906271
Service Time: 8:30am-12:30am, 2:00pm-6:00pm, Monday-Friday GMT+8
Address: 401, building 6, No. 161, Xingye 1st Road, Fenghuang community, Fuyong street, Bao'an District, Shenzhen, China