We are far-sighted, aiming at building a world advanced enterprise, pursuing leading technology, and providing the world with high quality IGET XXL Disposable Electronic Cigarette Disposable Vaporize and services. In terms of technology, we continue to increase R&D investment, optimize product structure, and improve product performance to satisfy the requirements of customers. We have leading equipment level, manufacturing capability, strong supply chain management capability and strict quality assurance system. We will continue to practice in the industry and make unremitting efforts to promote the development of the industry.
Specs
Size: 19*19*101mm
Liquid Capacity: 7.0ml
Battery capacity: 950mAh
Nicotine by volume: 5%
1 case/300pcs (18.5kg)
Case size: 41*40*32.5cm
35 Flavors
1.Grape 2.Mango
3.Lush ice 4.Peach Ice
5.Blue razz 6.Mixed berry
7.Pink Lemonade 8. Passion fruit mango
9.Mojito lime 10.Mint Lemonade
11.B.R.G ice 12.Guava ice
13.Pineapple juice ice 14.Mint ice
15.Energy drink 16.Cherry ice
17.Kiwi ice 18.Blackberry ice
19.Cucumber ice 20.Cotton candy
21.Blueberry ice 22.Bubble gum
23.Strawberry Watermelon
24.Blackberry Raspberry Orange
25.Mango Guava
26.Strawberry ice
27. Cherry pomegranate
28.Raspberry lemon
29. Double apple
30. Grape blueberry
31.Blackberry grape ice
32.Strawberry banana ice
33.Mixed fruit
34.Cola lime
35.Passion fruit pomegranate watermelon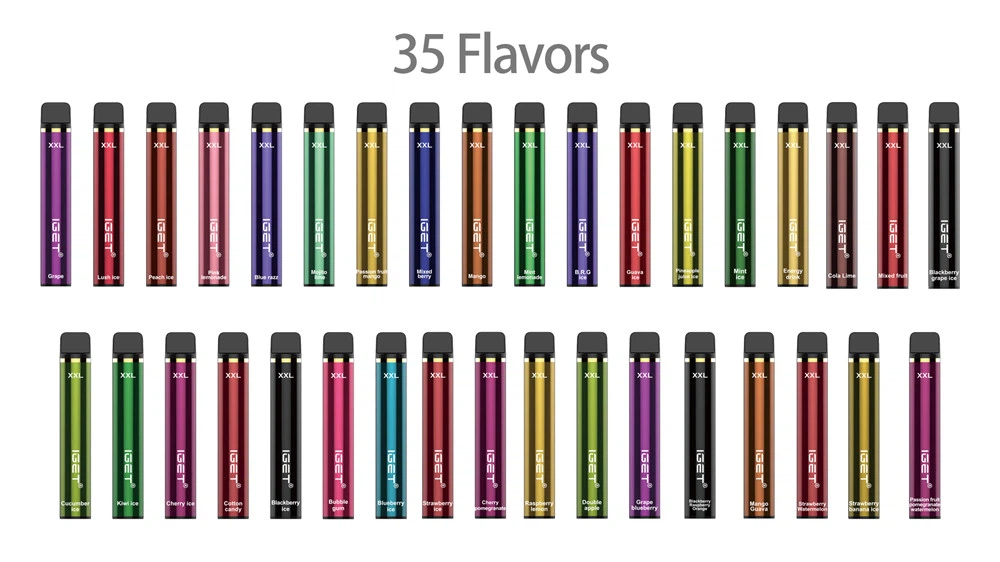 We have a high quality automated production line that can develop and produce exquisite IGET XXL Disposable Electronic Cigarette Disposable Vaporize for promoting the common development of domestic and foreign industries. Our value allocation is based on ability, responsibility, contribution and performance, and is based on the principles of performance first, fairness and sustainable development. We take up the economic responsibility of creating social material wealth and making the company grow and develop continuously.
Hot Tags: IGET xxl disposable electronic cigarette disposable vaporizer disposable vapes 2022, China, suppliers, manufacturers, factory, for sale, made in China, Popular Single Use Ecigs, iget pod kit, Flavored Disposable Vape Bomb, IGET Best Product IGET Bar Disposable Vape Kit IGET 3500, IGET bar disposable, IGET NOVA POD

subscribe
Get the latest product launches, promotions, and contests delivered straight to your inbox for free!
CONTACT US
Tel: 0086-0755 21053937
Jason: +86 18998906271
Service Time: 8:30am-12:30am, 2:00pm-6:00pm, Monday-Friday GMT+8
Address: 401, building 6, No. 161, Xingye 1st Road, Fenghuang community, Fuyong street, Bao'an District, Shenzhen, China