We have set a new development concept and service standard for the Popular Vaping Cigarette Electronic I Get E-Cigarette Iget S industry. We always adhere to the concept of "technological innovation, product innovation", based on the majority of the new generation of the market, focusing on cost-effectiveness. We have established good cooperative relations with domestic and foreign customers with excellent product quality and reasonable prices, and are also well received and praised by customers. The concept of safety is a concentrated expression of the concept, attitude, and code of conduct that an enterprise views and handles safety issues.
Specs
Size: 92.4*14.5*14.5mm
Liquid Capacity: 2.4ml
Battery capacity: 400mAh
Nicotine by volume: 6%
1 case/600pcs (17.5kg)
Case size: 54.5*32.5*25cm
26 Flavors
1.Apple 2.Banana ice
3.Blue razz 4.Blueberry ice
5.Bubble gum 6. Blackberry ice
7.CantAloupe 8.Cool mint
9.Cola ice 10.Classic tobacco
11.Cinnamon 12.Cranberry ice
13.Flavor burst 14. Grape
15.Lush ice 16.Lychee Ice
17.Mystery fruit 18. Mango
19.Mixed fruit 20.Pink Lemonade
21.Pineapple ice 22.Peach Ice
23.Passion fruit 24. Strawberry
25.Starwberry watermelon 26.Very berry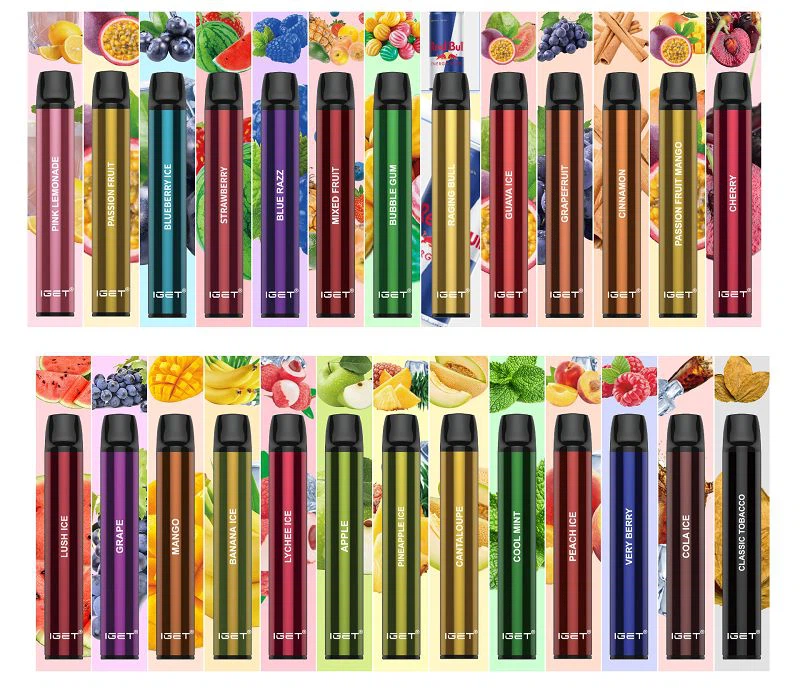 We will always only provide customers with quality management policy of quality Popular Vaping Cigarette Electronic I Get E-Cigarette Iget S, we have been walking in the forefront of the industry. The earlier the enterprise brand construction, the more comprehensive the planning, the more conducive to customers from the beginning of the formation of corporate brand awareness. Relying on a large number of innovative R&D personnel, we actively cooperate with outstanding colleagues to strengthen the tackling of technical problems.
Hot Tags: popular vaping cigarette electronic i get e-cigarette IGET shion e cigs vape, China, suppliers, manufacturers, factory, for sale, made in China, Non rechargeable Single Use E cigarettes, Refillable Vape, IGET BAR, Non Refillable Electronic Cigarette Pen, e-cig, Fruit Best Cartridge Vape Device

subscribe
Get the latest product launches, promotions, and contests delivered straight to your inbox for free!
CONTACT US
Tel: 0086-0755 21053937
Jason: +86 18998906271
Service Time: 8:30am-12:30am, 2:00pm-6:00pm, Monday-Friday GMT+8
Address: 401, building 6, No. 161, Xingye 1st Road, Fenghuang community, Fuyong street, Bao'an District, Shenzhen, China