In order to further meet the needs of customers, we will continue to work hard to provide customers with high quality Beginner-Friendly Disposable E Cigs. We regard the co-development with customers as an important factor for the real survival and long-term development of our company. We have inherited many years of core technical resources and talent advantages, and have a complete industrial chain. We are an enterprise integrating R&D, design, product manufacturing and sales, and technical equipment integration in China. We should first apologize for the problems in the service, but that is not enough. We also need to formulate practical solutions and take concrete actions to solve the customer's problems.
Specs
Size: 92.4*14.5*14.5mm
Liquid Capacity: 2.4ml
Battery capacity: 400mAh
Nicotine by volume: 6%
1 case/600pcs (17.5kg)
Case size: 54.5*32.5*25cm
26 Flavors
1.Apple 2.Banana ice
3.Blue razz 4.Blueberry ice
5.Bubble gum 6. Blackberry ice
7.CantAloupe 8.Cool mint
9.Cola ice 10.Classic tobacco
11.Cinnamon 12.Cranberry ice
13.Flavor burst 14. Grape
15.Lush ice 16.Lychee Ice
17.Mystery fruit 18. Mango
19.Mixed fruit 20.Pink Lemonade
21.Pineapple ice 22.Peach Ice
23.Passion fruit 24. Strawberry
25.Starwberry watermelon 26.Very berry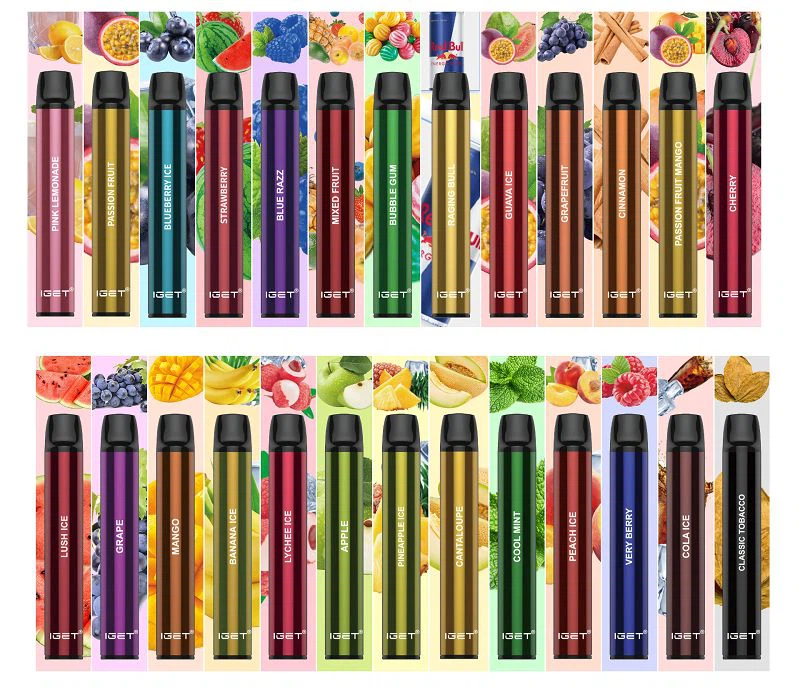 We firmly believe that with our high-quality and low-cost Beginner-Friendly Disposable E Cigs, enthusiastic service attitude and perfect after-sales service, we will gain the trust of customers. The company has an elite market development team, professional technical support, and perfect logistics and distribution system. Our company pursues the future development direction and actively innovates and develops in the market and technology.
Hot Tags: beginner-friendly disposable e cigs, China, suppliers, manufacturers, factory, for sale, made in China, XXL 1800, Popular Single Use Ecigs, IGET Legend 4000 Puffs Disposable IGET Vape, IGET 3000, Rechargeable Pod Electronic Cigarette, IGET Nova Disposable Vape Best Selling Electronic Cigarette Portable E Cig

subscribe
Get the latest product launches, promotions, and contests delivered straight to your inbox for free!
CONTACT US
Tel: 0086-0755 21053937
Jason: +86 18998906271
Service Time: 8:30am-12:30am, 2:00pm-6:00pm, Monday-Friday GMT+8
Address: 401, building 6, No. 161, Xingye 1st Road, Fenghuang community, Fuyong street, Bao'an District, Shenzhen, China