We make unremitting efforts to improve the stability and usability of our Pre-charged Pod Electronic Cigarette and strictly control the quality. With the long-term efforts and active investment of company members, our company's strength has been recognized by the industry. Our tenet is 'Reasonable prices, economical production time and very best service'. Maintaining a lasting relationship with customers is an important goal of our customer relationship management.
Specs
Size: 92.4*14.5*14.5mm
Liquid Capacity: 2.4ml
Battery capacity: 400mAh
Nicotine by volume: 6%
1 case/600pcs (17.5kg)
Case size: 54.5*32.5*25cm
26 Flavors
1.Apple 2.Banana ice
3.Blue razz 4.Blueberry ice
5.Bubble gum 6. Blackberry ice
7.CantAloupe 8.Cool mint
9.Cola ice 10.Classic tobacco
11.Cinnamon 12.Cranberry ice
13.Flavor burst 14. Grape
15.Lush ice 16.Lychee Ice
17.Mystery fruit 18. Mango
19.Mixed fruit 20.Pink Lemonade
21.Pineapple ice 22.Peach Ice
23.Passion fruit 24. Strawberry
25.Starwberry watermelon 26.Very berry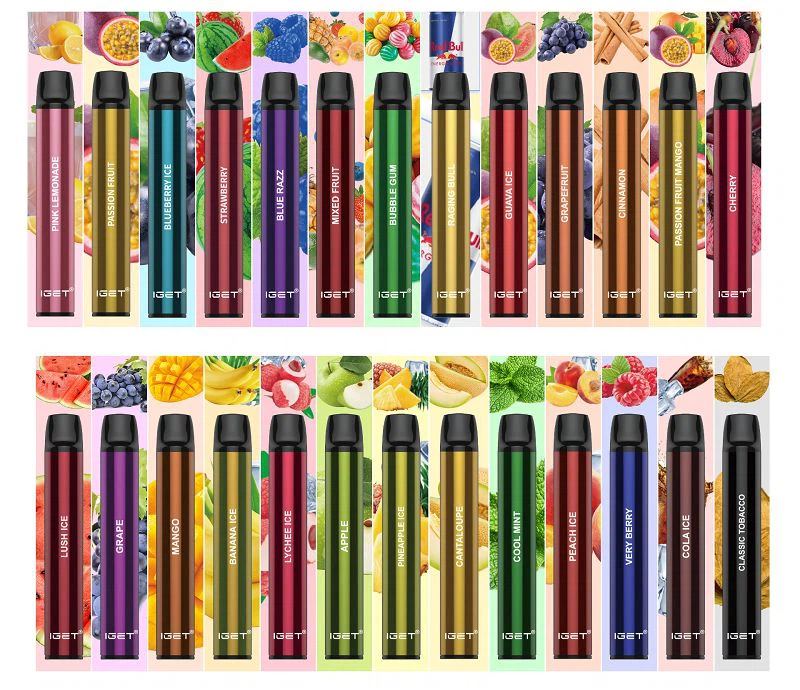 If you are interested in any of our products, please feel free to send us an inquiry. We guarantee that you can be completely satisfied with our solution for Pre-charged Pod Electronic Cigarette! In the future, we will concentrate our efforts, pioneer and innovate, seek truth and be pragmatic. We will continue to extend the industrial chain, expand industrial clusters, and form scale advantages. Embracing change, innovation, creating value and fulfilling employees' dreams are our common pursuit and goal.
Hot Tags: pre-charged pod electronic cigarette, China, suppliers, manufacturers, factory, for sale, made in China, Fruit Flavor Disposable Vaporizer, Small Disposable Vape Kit, Non Refillable, IGET 600 PUFFS, igetvape king, IGET BAR

subscribe
Get the latest product launches, promotions, and contests delivered straight to your inbox for free!
CONTACT US
Tel: 0086-0755 21053937
Jason: +86 18998906271
Service Time: 8:30am-12:30am, 2:00pm-6:00pm, Monday-Friday GMT+8
Address: 401, building 6, No. 161, Xingye 1st Road, Fenghuang community, Fuyong street, Bao'an District, Shenzhen, China