We believe that the world's leading brand of the Ultra-compact E-cig refers to an international first-class brand with high visibility, reputation and loyalty. We actively explore energy-saving and emission reduction production methods, promote lean production and product value enhancement. After several years of experience and pragmatic development, our company has gathered a large number of elite developers and service personnel, and the research and development strength is becoming stronger. We strive to help employees achieve their own value and continue to promote the harmonious development of enterprises and employees.
Specs
Size: 20.5*20.5*114.5mm
Liquid Capacity: 8.5ml
Battery capacity: 1400mAh
Nicotine by volume: 6.0%
1 case/300pcs (22kg)
Case size:40.5*39.5*38.5 cm
25 Flavors
1.Cool Peach
2.Iced Grape
3.Lush Fruit
4.Pineapple Juice ice
5.Iced Blueberry
6.Mango Bomb
7.Mint Ice
8.Smooth tobacco
9.Blackberry ice
10.Very berry ice
11.Passion Fruit Pineapple Cranberry ice
12.Strawberry Watermelon
13.Blackberry Raspberry ice
14.Blueberry raspberry ice
15.Passion fruit mango ice
16.Passion fruit grape ice
17.Cola ice 18.double apple
19.Strawberry kiwi ice
20.lychee ice
21.Strawberry apple banana
22.Papaya banana
23.Energy drink
24.Strawberry cherry
25.Vanilla ice cream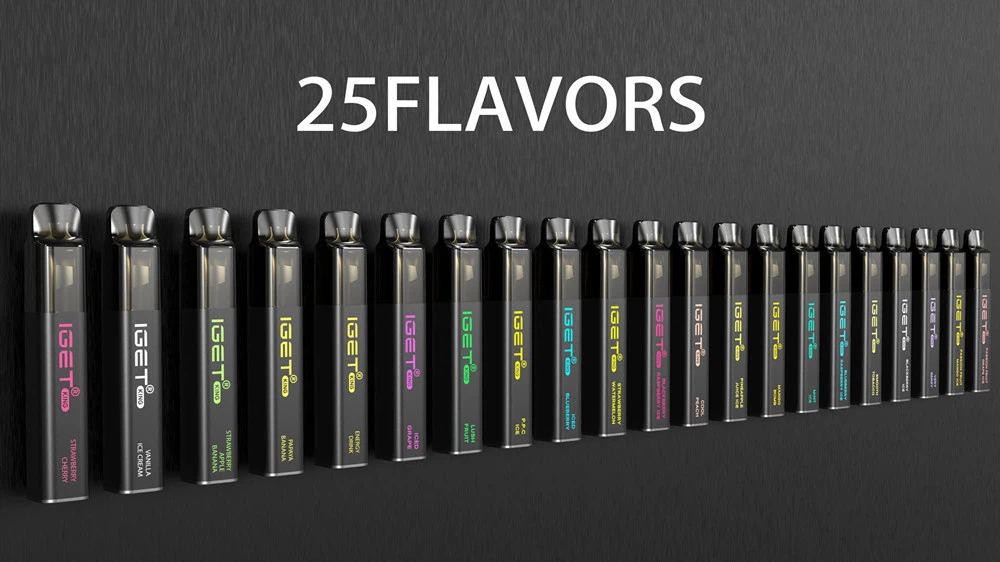 We specialize in the production of various specifications of Ultra-compact E-cig, our goal is to become one of your most reliable partners. We strive to achieve a long-lasting corporate foundation and fulfill our social responsibility with excellent development results. The enterprise always regards human resource management as the first important link of the whole enterprise management.
Hot Tags: ultra-compact e-cig, China, suppliers, manufacturers, factory, for sale, made in China, Portable Disposable Vape Pen, iget Refillable Vape, Rechargeable Pod Electronic Cigarette, Large capacity Non refillable E cigs, E Cig Product IGET Bar China IGET 2100 with 12ml, Round Disposable E Cigarette

subscribe
Get the latest product launches, promotions, and contests delivered straight to your inbox for free!
CONTACT US
Tel: 0086-0755 21053937
Jason: +86 18998906271
Service Time: 8:30am-12:30am, 2:00pm-6:00pm, Monday-Friday GMT+8
Address: 401, building 6, No. 161, Xingye 1st Road, Fenghuang community, Fuyong street, Bao'an District, Shenzhen, China