We have professional technology and good management system, together with rich experience and strict quality control, to ensure our consumers get high quality Ultra Premium Disposable Vaporizer. We establish a united, stable, high-quality leadership cadre to ensure the scientific, harmonious and efficient management and management philosophy and corporate culture concept of the company. Talents are the key to our company's development, and we insist on the pursuit of the concept of common progress of all employees in both material and spiritual aspects. We follow the industry trends, and explore the enterprise management pain points with customers.
Specs
Size: 81*20*12mm
Liquid Capacity: 1.6ml
Battery capacity: 280mAh
Nicotine by volume: 5%
1 case/600pcs (14kg)
Case size: 45*39.5*29.5cm
16 Flavors
1.Watermelom 2.Grape
3.Mango 4.Apple
5.Lychee Ice 6.Banana ice
7.Pineapple ice 8.CantAloupe
9.Cool mint 10.Peach Ice
11.Cola ice 12.Classic tobacco
13.Strawberry 14.Blueberry ice
15.Orange ice 16.Passion fruit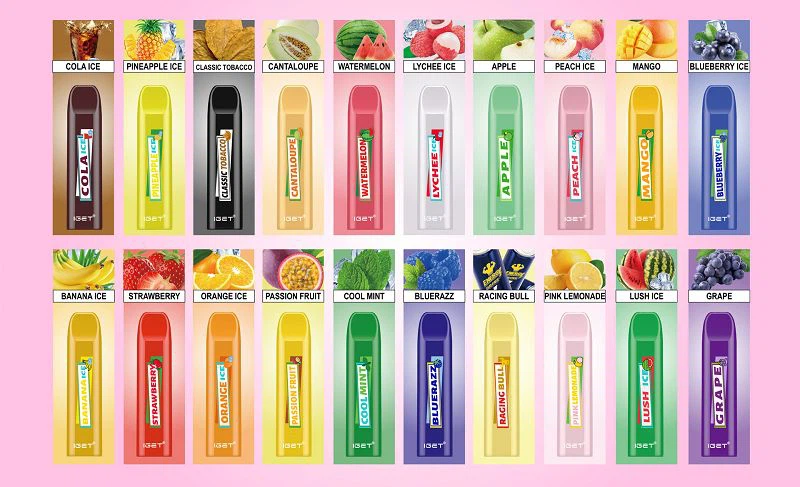 As a uniquely innovative and influential Ultra Premium Disposable Vaporizer brand in China, we have always adhered to the "ingenuity spirit" of excellence, and continue to create a higher quality of life for customers. Our years of experience in this field have enabled us to develop extensive and solid procurement channels to ensure the quality of our products. With a wide range, good quality, realistic charges and stylish designs, Our products and solutions are widely recognized and trusted by users and can fulfill continuously changing economic and social needs.
Hot Tags: ultra premium disposable vaporizer, China, suppliers, manufacturers, factory, for sale, made in China, Portable Pre Charged Vape, IGET Max Disposable Electronic Cigarette I Get Best Disposable, Pre charged Pod Electronic Cigarette, Electronic Cigarette Pen, Portable Non Refillable E Cigarette Stick, IGET 600

subscribe
Get the latest product launches, promotions, and contests delivered straight to your inbox for free!
CONTACT US
Tel: 0086-0755 21053937
Jason: +86 18998906271
Service Time: 8:30am-12:30am, 2:00pm-6:00pm, Monday-Friday GMT+8
Address: 401, building 6, No. 161, Xingye 1st Road, Fenghuang community, Fuyong street, Bao'an District, Shenzhen, China