Our company is a set of advanced technology and modern management tools research and development as one of the Beginner Single Use E Cig manufacturer. We put the concept of talent throughout the whole process of production, operation and management of the enterprise, forming a unique management concept. We now have established long-term, stable and good business relationships with many manufacturers and wholesalers around the world. The company firmly believes that quality is the foundation of enterprise production, the fundamental strength to win the competition, and the promise of quality and service to the majority of users. Our company will work hard to develop new products, expand new areas, and wholeheartedly provide customers at home and abroad with higher quality products.
Specs
Size: 81*20*12mm
Liquid Capacity: 1.6ml
Battery capacity: 280mAh
Nicotine by volume: 5%
1 case/600pcs (14kg)
Case size: 45*39.5*29.5cm
16 Flavors
1.Watermelom 2.Grape
3.Mango 4.Apple
5.Lychee Ice 6.Banana ice
7.Pineapple ice 8.CantAloupe
9.Cool mint 10.Peach Ice
11.Cola ice 12.Classic tobacco
13.Strawberry 14.Blueberry ice
15.Orange ice 16.Passion fruit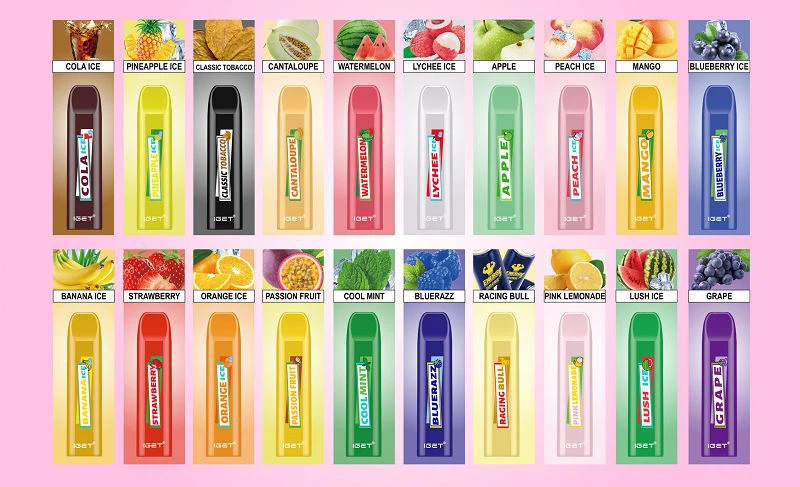 Based on Beginner Single Use E Cig industry, we closely integrate modern business concepts and ideas with the development of the company. The company always provides customers with satisfactory products and considerate services, and is committed to becoming an expert in the industry. Our company is full of power. We hope to get closer to key markets through our technology, brand and distribution channels.
Hot Tags: beginner single use e cig, China, suppliers, manufacturers, factory, for sale, made in China, Iget Vape Shion, Rechargeable Pod Electronic Cigarette, Refillable E Cigarette, Transparent Disposable Vape Atomizer, Pocket E Cig Best Disposable Vapes, Electronic Cigarette Pen

subscribe
Get the latest product launches, promotions, and contests delivered straight to your inbox for free!
CONTACT US
Tel: 0086-0755 21053937
Jason: +86 18998906271
Service Time: 8:30am-12:30am, 2:00pm-6:00pm, Monday-Friday GMT+8
Address: 401, building 6, No. 161, Xingye 1st Road, Fenghuang community, Fuyong street, Bao'an District, Shenzhen, China