Under the trend of globalization of production and diversification of demand, we must have the ability to respond quickly to the market and develop new Small Disposable Vape Kit. We are committed to technological innovation to provide higher-end products to enhance the core competitiveness of the company. We adhere to the principle of honesty, customer first, dedicated to provide our customers with quality products and services. We sincerely hope to form friendly cooperative relations with our customers and related industries, and work together to develop our ambitions and move towards new brilliance together!
Specs
Size: 81*20*12mm
Liquid Capacity: 1.6ml
Battery capacity: 280mAh
Nicotine by volume: 5%
1 case/600pcs (14kg)
Case size: 45*39.5*29.5cm
16 Flavors
1.Watermelom 2.Grape
3.Mango 4.Apple
5.Lychee Ice 6.Banana ice
7.Pineapple ice 8.CantAloupe
9.Cool mint 10.Peach Ice
11.Cola ice 12.Classic tobacco
13.Strawberry 14.Blueberry ice
15.Orange ice 16.Passion fruit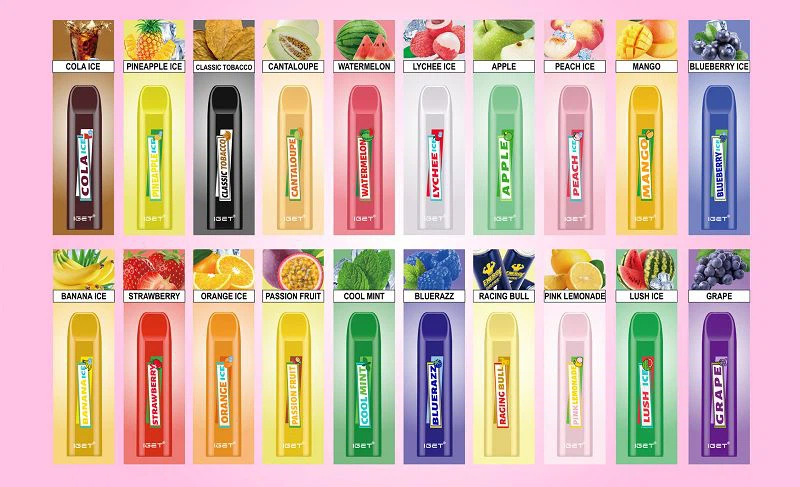 Our Small Disposable Vape Kit is of various types and fashionable designs, which explains why it is so competitive in the international market. With the spirit of pursuit and innovation, We cherish your business and hope to grow bigger and stronger with you. Our company carries out production under strictly quality management system. Welcome to contact us, we will provide you with quality products and dedicated servic Developed transportation, communication, information, and network closely connect the company with the world and provide a good opportunity for the further development of the company.
Hot Tags: small disposable vape kit, China, suppliers, manufacturers, factory, for sale, made in China, Pocket Sized Disposable E cig Pen, IGET Vape Disposable Vape Device 4000 Puffs, Pre charged Disposable E Cigarette, Disposable Nicotine Vape Pens, Beginner Single Cig, Round Disposable Electronic Cigarette

subscribe
Get the latest product launches, promotions, and contests delivered straight to your inbox for free!
CONTACT US
Tel: 0086-0755 21053937
Jason: +86 18998906271
Service Time: 8:30am-12:30am, 2:00pm-6:00pm, Monday-Friday GMT+8
Address: 401, building 6, No. 161, Xingye 1st Road, Fenghuang community, Fuyong street, Bao'an District, Shenzhen, China