We believe that learning is valuable only when it is combined with practice, and knowledge can appreciate only when it is put into practice, so we apply the new technology we have learned to production of the Non-rechargeable Disposable E-cigarettes. We hope to continuously demonstrate our strength in the international arena and contribute to serving the global market. According to the market demand, our company has strengthened the ability of development and design, and through the introduction of advanced technology, we have developed and produced a variety of new products. We insist on quality, environment and occupational health and safety management as the core of our production and operation, and keep pace with international standards in quality and environment management.
Specs
Size: 19*19*101mm
Liquid Capacity: 7.0ml
Battery capacity: 950mAh
Nicotine by volume: 5%
1 case/300pcs (18.5kg)
Case size: 41*40*32.5cm
35 Flavors
1.Grape 2.Mango
3.Lush ice 4.Peach Ice
5.Blue razz 6.Mixed berry
7.Pink Lemonade 8. Passion fruit mango
9.Mojito lime 10.Mint Lemonade
11.B.R.G ice 12.Guava ice
13.Pineapple juice ice 14.Mint ice
15.Energy drink 16.Cherry ice
17.Kiwi ice 18.Blackberry ice
19.Cucumber ice 20.Cotton candy
21.Blueberry ice 22.Bubble gum
23.Strawberry Watermelon
24.Blackberry Raspberry Orange
25.Mango Guava
26.Strawberry ice
27. Cherry pomegranate
28.Raspberry lemon
29. Double apple
30. Grape blueberry
31.Blackberry grape ice
32.Strawberry banana ice
33.Mixed fruit
34.Cola lime
35.Passion fruit pomegranate watermelon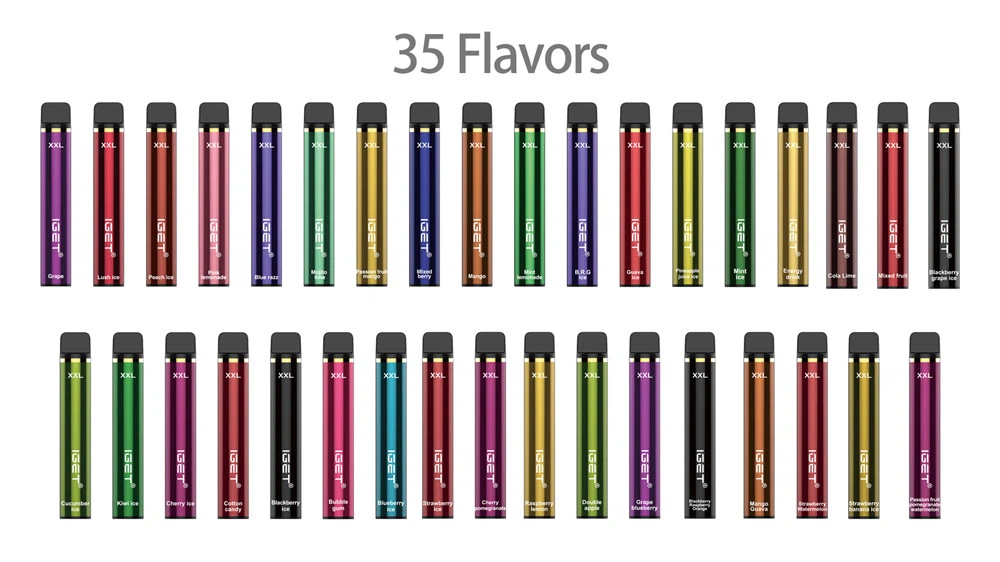 As a professional Non-rechargeable Disposable E-cigarettes manufacturer integrating R&D, production and sales, we have a group of professional R&D teams, high-quality technical personnel and management personnel, and advanced production, processing and testing equipment. We will always adhere to the development policy of safety over everything, people over everything, innovation above everything, and development determines everything. We always insist on 'quality first, customer first' in terms of credibility.
Hot Tags: non-rechargeable disposable e-cigarettes, China, suppliers, manufacturers, factory, for sale, made in China, Iget 4000 Puffs, IGET JANNA, Fruit Flavor, 3500 Bar Disposable Vape, Non rechargeable Disposable E Cigarette, IGET DUAL

subscribe
Get the latest product launches, promotions, and contests delivered straight to your inbox for free!
CONTACT US
Tel: 0086-0755 21053937
Jason: +86 18998906271
Service Time: 8:30am-12:30am, 2:00pm-6:00pm, Monday-Friday GMT+8
Address: 401, building 6, No. 161, Xingye 1st Road, Fenghuang community, Fuyong street, Bao'an District, Shenzhen, China